U.S. Paid $125 Billion to Ineligible Recipients, a Jump of 18% in One Year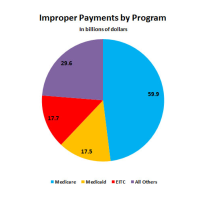 (graphic: Steve Straehley, AllGov)
The federal government paid out $124.7 billion last year to recipients who didn't deserve the money, according to a report (pdf) by the Government Accountability Office (GAO).
That figure is a huge jump from the $105.8 billion paid out in 2013 and represents the first time in four years that the figure has increased.
The program with the most improper payments was Medicare, with nearly $60 billion paid out to undeserving recipients. The bulk of the improper payments were in the fee-for-service, or Medicare Part A and Part B, programs, with $45.7 billion overpaid, an error rate of 12.7%, according to the GAO.
The next largest category of improper payments, and the one with the highest error rate, is in the Earned Income Tax Credit program (EITC), with $17.7 billion and an error rate of 27.2%. This program is meant to reduce taxes for low- and moderate income Americans. Right behind the EITC is Medicaid, with $17.5 billion in improper payments. These three top programs accounted for 76% of the estimated improper payments, according to the GAO.
"Improper payment estimates for Medicare, Medicaid, and the EITC are among the highest estimates government-wide, and federal spending in Medicare and Medicaid is expected to significantly increase. Consequently, it is critical that actions are taken to reduce improper payments in these programs. Over the past several years, we made numerous recommendations that, if effectively implemented, could improve program management, help reduce improper payments in these programs, and achieve cost savings," the report said.
-Steve Straehley
To Learn More:
Improper Payments Jumped $125 Billion for Federal Government Last Year (by Josh Hicks, Washington Post)
Government Efficiency and Effectiveness (Government Accountability Office) (pdf)
Nation's Worst Cancer Doctor Pleads Guilty to Medicare Fraud (by Noel Brinkerhoff, AllGov)
L.A. Doctors Included in $260-Million National Medicare Fraud Sweep (by Ken Broder, AllGov California)
2% of Doctors Received 24% of Medicare Payments (by Noel Brinkerhoff, AllGov)