U.S. Military Builds $34-Million High-Tech Operations Complex in Afghanistan…and Will Never Use It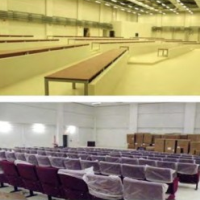 (photos: SIGAR)
"What the hell were they thinking?"
That remark by a U.S. Army general sums up the opinions of many about the latest boondoggle in Afghanistan: a $34 million high-tech operations center that the American military will never use because it's on its way out of the country.
The complex, located in barren southwestern Afghanistan, is bigger than a football field and includes a briefing theater, spacious offices, "fancy chairs," and air conditioning.
The contract was given to a British firm, AMEC Earth and Environment. Construction was completed this year, but back in 2010, commanders said they didn't need the building and recommended the U.S. stop work on it.
Instead, the project continued, making it "the whitest elephant in a war littered with wasteful, dysfunctional and unnecessary projects funded by American taxpayers," Rajiv Chandrasekaran wrote for The Washington Post.
Top U.S. military brass who toured the facility described the center as as large as the Supreme Allied Headquarters in Europe or the U.S. Central Command and, according to one two-star Marine general, "better appointed than any Marine headquarters anywhere in the world."
"What the hell were they thinking?" a two-star Army general told the newspaper on the condition of anonymity. "There was never any justification to build something this fancy."
What will be the facility's fate once the Americans are gone? Since no one believes that the Afghan military will be able to afford the astronomical cost of its maintenance, only one option remains, according to John Sopko, special inspector general for the reconstruction of Afghanistan: "The building will probably be demolished."
-Noel Brinkerhoff, Danny Biederman
To Learn More:
A Brand-New U.S. Military Headquarters in Afghanistan. And Nobody to Use It. (by Rajiv Chandrasekaran, Washington Post)
U.S. Blew $34 Million on Unused Afghan Facility Now Likely to Be Torn Down (by Philip Bump, Atlantic Wire)
Letter to U.S. Military Leaders from Inspector General John Sopko (SIGAR) (pdf)
If U.S. Troops Are Leaving Afghanistan, Why Are New Barracks Being Built? (by Noel Brinkerhoff, AllGov)
Billions of Dollars for Military Bases in Afghanistan (by Noel Brinkerhoff, AllGov)