U.S. has Paid more than $4 Billion in Subsidies to Cotton Farmers in California and Arizona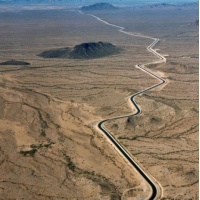 Central Arizona Project canal (photo: U.S. Bureau of Reclamation)
If you're looking for a safe bet, don't go to Las Vegas. Instead, drive a bit south into the deserts of Arizona and California and start planting cotton. Thanks to government subsidies and insurance, it's a sure thing.
The federal government, through the Farm Bill, has paid about $1.1 billion to Arizona cotton farmers over the past 20 years. In California, which grows more cotton, $3 billion of the public's largesse has been spread around to those farmers, according to reporting by ProPublica. All these payments come as the demand for that cotton is shrinking and it's taking more precious water to grow it.
In the past, the payments came directly to farmers in the form of subsidies. Now, they're coming as payments for crop insurance, which can protect farmers if the price drops below a preset amount, making it very difficult to lose money by farming cotton. Although switching to wheat would use less water, government policies encourage farmers to keep growing cotton—they'd be foolish not to.
"If I knew my 401k was guaranteed to not fall below 85 percent of its current level and there was no limit on the upside, my portfolio would be a lot riskier than it is," Craig Cox, a senior vice president at the Environmental Working Group, who was a former staff member for the Senate Committee on Agriculture, Nutrition and Forestry, told ProPublica.
Payments to farmers aren't the only way federal tax dollars have subsidized this industry. Water is brought to those farms via the $4.4 billion Central Arizona Project canal. Farmers pay a fraction of the cost of the water, which is brought in from the overstrained Colorado River.
-Steve Straehley
To Learn More:
Holy Crop: How Federal Dollars Are Financing the Water Crisis in the West (by Abrahm Lustgarten and Naveena Sadasivam, ProPublica)
If You Eat Fruits, Vegetables and Nuts or Drink Milk or Wear Cotton Clothes, California's Drought is Your Problem Too (by Noel Brinkerhoff, AllGov)