If You Eat Fruits, Vegetables and Nuts or Drink Milk or Wear Cotton Clothes, California's Drought is Your Problem Too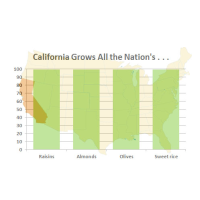 (graphic: Steve Straehley, AllGov)
Those outside of California who think the state's ongoing drought is not their concern should think again if they wear clothes made of cotton, drink milk, enjoy a nutty snack or appreciate a good salad.
The fact is that California produces an enormous amount of agricultural goods and commodities, and the longer it goes without normal rainfall levels, the more likely the supply of food and other items will be affected. Agriculture accounts for 80% of the state's water use.
Consider this: California is the sole producer (generating 99% or more) in the United States for the following: almonds, artichokes, dates, figs, raisins, kiwifruit, olives, Clingstone peaches (the kind preferred for salads or fresh snacks), pistachios, dried plums, pomegranates, sweet rice and walnuts. California also accounts for 94% of broccoli and fresh plums and it leads the nation in producing American Pima cotton, which is used in clothing.
The drought forced farmers in the Golden State to lay fallow half a million acres of farmland last year, which cost "the state's agriculture industry $1.5 billion in revenue and 17,000 seasonal and part time jobs," according to ClimateProgress. This year, the total acreage of fallowed farmland could double, which could raise questions about what the nation is going to do if California can no longer be the breadbasket and salad bowl of the U.S.
"When you look at the California drought maps, it's a scary thing," Craig Chase, who leads the Leopold Center for Sustainable Agriculture's Marketing and Food Systems Initiative at Iowa State University, told ThinkProgress. "We're all wondering where the food that we want to eat is going to come from. Is it going to come from another state inside the U.S.? Is it going to come from abroad? Or are we going to grow it ourselves? That's the question that we need to start asking ourselves."
-Noel Brinkerhoff
To Learn More:
California's Drought Could Upend America's Entire Food System (by Natasha Geiling, ClimateProgress)
Apocalyptic Schadenfreude: What the New York Times — and Everybody Else — Gets Wrong About California's Water Crisis (by Steven Johnson, Medium)
California Agricultural Statistics 2013 Crop Year (National Agricultural Statistics Service) (pdf)
California Water Shortage Culprits—Fracking and Agriculture—Escape State Conservation Measures (by Noel Brinkerhoff, AllGov)
How Does Personal Water Conservation Help When BigAg Is Using Most of It? (by Ken Broder, AllGov California)
Could California Drought be Ended by Stopping Alfalfa Exports to China?(by Noel Brinkerhoff, AllGov)