Top Executives at Bailed-Out Companies Keep Getting the Big Bucks, with a Wink from Treasury Dept.
Wednesday, January 30, 2013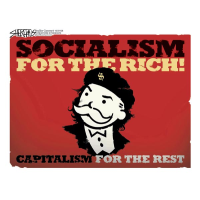 (graphic: John Sherifius)
Executives of corporations bailed out by the U.S. government received more than $6 million in raises last year, despite guidelines by the Department of the Treasury that are supposed to limit such salaries.
The Special Inspector General for the Troubled Assets Relief Program (SIGTAR) accused Treasury officials of ignoring the guidelines and approving raises sought by the companies.
An extra $6.2 million was awarded to just 18 employees at General Motors (GM), Ally Financial and American International Group (AIG), which received a total of more than $250 billion in bailout funds. This included a $1 million raise for the chief executive of an AIG division, Chartis, and $200,000 for an employee of Ally's Residential Capital—which filed for bankruptcy only weeks later.
In 2012, the Office of the Special Master for TARP Executive Compensation approved pay packages of $3 million or more for 54% of the 69 top executives of AIG, GM and Ally.
Christy Romero, special inspector general for TARP, criticized the Treasury Department for not holding the line on executive compensation. "Treasury cannot look out for taxpayers' interests if it continues to rely to a great extent on the pay proposed by companies that have historically pushed back on pay limits," Romero said in her report (pdf).
She also accused Treasury of not making "meaningful reform to its processes."
"Lacking criteria and an effective decision-making process, Treasury risks continuing to award executives of bailed-out companies excessive cash compensation without good cause," she added.
Patricia Geoghegan, Treasury's acting special master for compensation, rejected Romero's conclusions, saying the audit was filled with inaccuracies and mischaracterizations of data provided to the inspector general.
-Noel Brinkerhoff
To Learn More:
Treasury Approved Big Pay Raises at Bailed-Out AIG, Ally and GM, Report Says (by Danielle Douglas, Washington Post)
Treasury Continues Approving Excessive Pay for Top Executives at Bailed-Out Companies (Office of the Special Inspector General for the Troubled Asset Relief Program) (pdf)
Treasury Dept. Fails to Implement Two-Thirds of Post-Bailout Recommendations (by Noel Brinkerhoff and David Wallechinsky, AllGov)
The Bailouts 4 Years Later: Were They Worthwhile Investments? (by Matt Bewig, AllGov)
Public Thinks Bailouts Will Change Wall Street, CEOs Say No: Robert Reich (AllGov)