The Corporate Tax Rate may be 35%, but Oil and Gas Companies Really Pay only 11.7%
Wednesday, August 06, 2014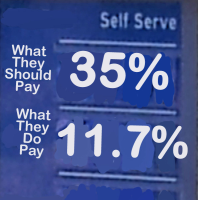 (graphic: Steve Straehley, AllGov)
Oil companies are paying about a third of the tax rate established under federal rules, according to a tax reform group.
A report by Taxpayers for Common Sense found the 20 largest petroleum and natural gas corporations have been paying about 11.7% tax on their profits. The statutory rate for federal income taxes for business is 35%.
But "thanks to a variety of special tax provisions," these companies have been able to "defer payment of a significant portion of the federal taxes they accrued" from 2009 to 2013, the report states. Many of the deferrals result from special breaks given only to the oil and gas industry.
The 20 oil companies examined by the group reported a total of $133.3 billion in pre-tax U.S. earnings, but were responsible to pay only $32.1 billion in taxes. The deferred payments option allowed them to pay even less, only about $15.6 billion, which came out to an 11.7% tax rate. And the companies owe the federal government no interest on the deferred taxes, even if it takes decades to pay them back.
Four companies – ExxonMobil, ConocoPhillips, Occidental, and Chevron–generated 84% of the $133.3 billion in income. Their combined effective tax rate (ETR) amounted to 13.3%.
"The smaller firms paid an even smaller share of their tax liability on a current basis," the report says. "When the top four companies and those with losses are excluded from the analysis, the remaining companies reported a 28.9 percent ETR on U.S. income, but only a 3.7 percent current rate. They deferred over 87 percent of their tax liability."
The companies paid a far higher percentage to foreign governments. According to the report, foreign tax payments were about 46.2% of their foreign income and the companies are unable to defer any of that.
-Noel Brinkerhoff
To Learn More:
Effective Tax Rates of Oil and Gas Companies: Cashing in on Special Treatment (Taxpayers for Common Sense)
Lowering Corporate Tax Rate Unlikely to Create More Jobs (by Noel Brinkerhoff, AllGov)
Major U.S. Corporations Pay One-Third of U.S. Tax Rate (by Noel Brinkerhoff, AllGov)