Super-Wealthy Pour Money into Election Campaigns through Single-Donor Super PACS
Wednesday, April 22, 2015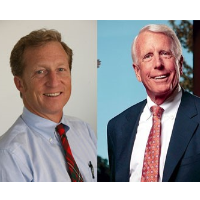 Tom Steyer, Richard Uihlein (photos: Wikipedia; Stephen J. Serio, Crain's Chicago Business)
The uber rich in America have decided it's easier to go it alone when financing their preferred candidates. Rather than contributing to a political action committee or super PAC, many are starting their own one-donor super PACs.
A report from ProPublica and The Daily Beast revealed that an increasing number of super PACs "have become instruments of single donors."
During the 2012 election, only 4% of all money going to super PACs went to those dominated by a single donor. By the 2014 election cycle, that rate had soared to 16%.
The research also showed 59 super PACs received at least 80% of their funding from one individual during the 2014 cycle. These super PACs pulled in $113 million, up from the $33 million raised by a similar group of 34 super PACs from the 2012 campaign.
"The trend may continue into 2016," Robert Faturechi and Jonathan Stray reported, citing the example Republican presidential hopeful Ted Cruz, who has at least four billionaires raising money for him through their own super PACs or those run by their families.
The situation, ushered in by the Supreme Court's 2010 Citizens United ruling, could lead to "anointing an aristocracy that's getting a stronger and stronger grip on democracy," Miles Rapoport, president of Common Cause, an advocacy group that seeks to reduce the influence of money on politics, said in the report.
One of the biggest progressive donors in 2014 was Tom Steyer, whose Nextgen Climate Action was the largest super PAC, raising almost $78 million, 85% from Steyer himself. On the right, packaging mogul Richard Uihlein was a big financer of super PACs, funding three for which he was the only donor, or gave more than 85% of its contributions.
-Noel Brinkerhoff
To Learn More:
Rapid Rise in Super PACs Dominated by Single Donors (by Robert Faturechi and Jonathan Stray, ProPublica)
Meet Ted Cruz's Billionaire Donors (by Eliana Johnson, National Review)
How Much Do the 1% of the 1% Control Politics? (CrowdPac)
Rich Democrats Discover the Joy of Super PACs (by Noel Brinkerhoff, AllGov)
3 Anonymous Americans Gave $50 Million to Karl Rove's Super Pac; 5 Anonymous Donors Funded Most of Pro-Obama PAC (by Matt Bewig, AllGov)