State Laws Target Life Insurance Companies that Soak Up Money Earmarked for Beneficiaries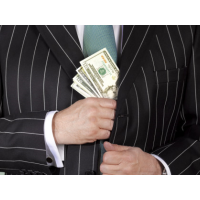 (photo: Peter Dazeley via Getty Images)
By Alejandra Cancino, Associated Press
CHICAGO (AP) — Beneficiaries of unclaimed life insurance policies already have received billions of dollars — and others could be in store for some unexpected cash — the result of state actions forcing companies to locate heirs and pay them the money they are owed.
Nearly two dozen states have passed laws requiring companies to search for beneficiaries. Illinois is the latest to consider a version of the legislation.
The laws follow years-long audits and multi-state investigations of the top 40 insurance companies that revealed many of them held on to benefits, even when they knew the person insured had died.
More than 20 insurance companies settled with states.
Some companies are pushing back, against both the investigations and the laws.
Life insurance companies owned by Chicago-based Kemper Corp. are trying to block Florida's law, one of the nation's strongest, and are fierce opponents of Illinois' proposal, which was approved by state lawmakers but still needs Gov. Bruce Rauner's signature to become law.
In lawsuits against the Illinois State Treasurer and Florida's Chief Financial Officer, Kemper's subsidiaries have argued that under their contracts with policyholders, beneficiaries have to make a claim to receive benefits.
"If states can interfere with existing contracts, it is a bad precedent for consumers and the companies that serve them and violates the U.S. and state constitutions," Kemper said in a statement.
Most of the laws are modeled after a version drafted by the National Conference of Insurance Legislators and supported by the American Council of Life Insurers, an industry group whose members include MetLife, Nationwide and Prudential. The council is pushing for all states to adopt this "national standard" by 2017.
"Life insurance companies are committed to providing people the money they are owed," the council said in a statement.
It said most life insurers have "gone well beyond what the law requires" to identify deceased policyholders and locate their beneficiaries. "We also think it makes sense for everyone in the industry to do the same."
The laws require companies to cross check their databases against a federal database of the deceased, though they differ on when to start those checks. Florida's law requires companies to check policies dating back to 1992.
In Illinois, insurance companies would only have to check their active, or "in-force," policies. If a match is found, they would be required to use "good faith efforts" to search for beneficiaries.
The issue stems from insurance companies' practice of checking the Social Security Death Master File to figure out whether policyholders receiving annuities had died. If a match was found, the companies would stop payments. But they wouldn't perform the same checks against life insurance policies, waiting, instead, for beneficiaries to reach out to them.
In a small number of cases, beneficiaries were unaware of the policies, so companies would hold on to the benefit for years before forwarding it to the state as "unclaimed property," or would deduct monthly payments until the money was gone and the policy was canceled.
The practice of checking the Death Master File for annuities but not for life insurance policies wasn't illegal, but state officials, including insurance regulators, treasurers and controllers, found it deceptive.
California Insurance Commissioner Dave Jones said the companies "failed to pay billions in death benefits that were owed to beneficiaries."
Since 2011, companies including MetLife, American International Group and Nationwide have settled with states, paying out more than $5 billion to beneficiaries of unclaimed policies, according to estimates by the Florida Office of Insurance Regulation. They've also forwarded more than $2.4 billion to states, which continue to search for beneficiaries.
"This is something that shocked me," said Illinois State Treasurer Michael Frerichs, whose office pushed for legislation. "We think it's important that the last wishes of the deceased are honored."
Earlier this year, Roberta Berchtold, 62, of San Diego, was told by a nephew that Illinois was looking for her father's descendants because it was holding money from a life insurance policy. She thought the matter was settled two years ago, when the insurance company contacted her about a policy and sent her a check for $35,000.
Initially, she said, she worried it was a scam.
Her father died six years ago at age 83. She had copies of his life insurance policies and remembers the insurance company denying payments for two. "My father was a farmer, and a Depression-era person," Berchtold said, adding that because of the high mortality rates in the fields, farmers wanted to make sure their families were taken care of.
She figured then he had cashed out the policies, but now realizes that, somehow, the company didn't pay out on at least two, Berchtold said.
"I never really trusted them," she said.
Joseph M. Belth, professor emeritus of insurance at Indiana University, said the biggest issue is lack of transparency in the industry. He has argued that policyholders should receive annual statements, documents that beneficiaries can then use to claim what's owed to them. But his idea, he said, has been rejected by the industry and regulators.
To Learn More:
Only Eight Insurance Companies Still Resisting State Call for Iranian Divestment (by Ken Broder, AllGov California)
Life Insurance Companies Have "Fleeced" Beneficiaries out of $138 Million (by Ken Broder, AllGov California)