State Dept. Can't Locate Files for $6 Billion Worth of Contracts
Wednesday, April 09, 2014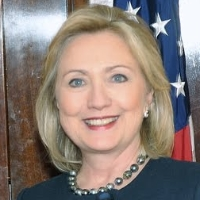 Hillary Clinton
The State Department's Office of Inspector General (IG) says the agency can't locate more than $6 billion in contracts, raising the specter of mismanagement by officials.
The paperwork went missing during the past six years, during which Hillary Clinton ran the State Department as secretary of state for most of that time (2009-2012).
The IG's report (pdf) warned the $6 billion in unaccounted funds represents a "significant financial risk and demonstrates a lack of internal control" at the agency. It also "creates conditions conducive to fraud, as corrupt individuals may attempt to conceal evidence of illicit behavior by omitting key documents from the contract file."
Marie Harf, a State Department spokeswoman, told the Associated Press that the $6 billion was not missing. She characterized the situation as a "bureaucratic issue" that's being addressed.
Many of the missing contracts, 33 to be exact, were related to State Department contracting in Iraq during the war. These were valued at $2.1 billion.
The IG noted that another 48 Iraq contracts, worth another $2.1 billion, lacked "all of the documentation required by" internal regulations.
The department's Bureau of African Affairs was criticized for failing "to provide complete contract administration files" for eight contracts worth $34.8 million.
-Noel Brinkerhoff
To Learn More:
State Dept. Misplaced $6B under Hillary Clinton: IG Report (by Adam Kredo, Washington Free Beacon)
Report: Gov't Files Lacking for $6b in Contracts (Associated Press)
Management Alert: Contract File Management Deficiencies (U.S. State Department, Office of Inspector General) (pdf)