Should Keystone Pipeline be Renamed Koch Brothers Pipeline?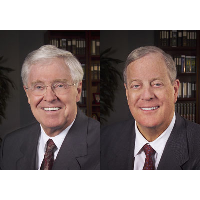 Charles and David Koch
The proposed Keystone XL Pipeline (KXL) to carry tar sands crude oil from western Canada to the Texas Gulf Coast for refining and export ought to be renamed the Koch Bros. Pipeline for the billions of dollars the billionaire brothers stand to reap, as detailed in a new report by the International Forum on Globalization. The acronym KXL could be re-purposed to stand for Koch Xtra-Large profits.
The report, "Billionaires' Carbon Bomb: The Koch Brothers and the Keystone XL Pipeline," argues that Charles and David Koch stand to gain more from the pipeline than anyone else, even Exxon executives and top energy investors. The brothers co-own America's second largest private corporation, oil industry giant Koch Industries, and their combined net worth of $92 billion bests that of the world's wealthiest man, Bill Gates, by $20 billion.
Via Koch Industries, the brothers stand to make up $100 billion from KXL—1 million times more than the average KXL worker's wages would be over the life of the project, according to the report. The Kochs expect KXL to generate profit for them based on the 4,000 miles of pipeline operated by Koch Pipeline Company, the lucrative dealings in oil derivatives by Koch Supply and Trading, and the ownership of at least 2 million acres in Alberta with tar sands by Koch Exploration Canada: more than Exxon, Chevron and ConocoPhillips combined.
But tar sands crude oil is highly viscous, mixed with sand, clay and bitumen, requiring extraction and processing techniques that cause tar sands oil to yield three times more greenhouse gas emissions than conventional oil. KXL would carry 830,000 barrels/34 million gallons per day of this ultra-dirty tar sands oil, causing retired NASA scientist James Hansen to call tar sands the "fuse to the biggest carbon bomb on the planet," whose use would be "game over" for the climate.
The report argues that the direct physical damage to the climate would be exacerbated by the political impact of KXL "by enormously expanding the Kochs' financial war chest, thereby increasing their ability to influence U.S. carbon pollution policymaking and undermine urgent global climate cooperation." Pointing out that the Kochs have spent more than $22 million on campaign donations since 1990 and about $76 million on lobbying since 1998, the report accuses them of also shelling out "$53 million in Koch Cash for front groups and politicians who are pushing to fast-track KXL."
The report concludes that "KXL is not in America's national interest because it will increase emissions and likely lead to further rollbacks of measures set to protect the people, the planet, and democracy. KXL's approval would give the Kochs more money to ramp up their already successful attacks against Americans' voting rights, labor rights, pollution controls, and other public interest protections." Koch Industries has not yet replied to the report.
-Matt Bewig
To Learn More:
Billionaires' Carbon Bomb: The Koch Brothers and the Keystone XL Pipeline (International Forum on Globalization) (pdf)
Koch Brothers Use Detroit as a Dumping Ground (by Matt Bewig, AllGov)
Keystone Pipeline Lobbyists were Hillary Clinton Fundraisers (by Matt Bewig, AllGov)