SEC Charges Kansas State Government with Bond Fraud
Thursday, August 14, 2014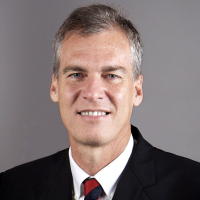 Mark Parkinson (D), governor of Kansas 2009-2011
For two years, state officials in Kansas encouraged investors to buy bonds to fund several projects in the state without revealing that its public employees' pension fund was grossly underfunded, federal regulators charged.
The Securities and Exchange Commission (SEC) has taken action against the Kansas Development Finance Authority for not disclosing a billion-dollar liability in the pension fund.
Between 2009 and 2010, officials made eight bond offerings. But at no time did they inform bond investors that Kansas' public-employee pension was the second-most underfunded in the United States. At one point, the gap between the fund's liabilities and assets reached $8.3 billion.
Martin Z. Braun of Bloomberg News reported: "The gap was a result of years of insufficient contributions by the state and school districts to cover the cost of benefits earned by public employees and their accumulated liabilities."
LeeAnn Ghazil Gaunt, chief of the SEC Enforcement Division's Securities and Public Pension Unit, said in a statement: "Kansas failed to adequately disclose its multibillion- dollar pension liability in bond offering documents, leaving investors with an incomplete picture of the state's finances and its ability to repay the bonds amid competing strains on the state budget." The SEC made no claims of intentional misconduct in the case.
Kansas officials eventually adopted new policies for the fund as part of a settlement with the SEC, which did not include any financial penalties. Gov. Sam Brownback (R), who took office in 2011, said in a statement: "Under my administration, we have improved transparency in the reporting system and taken decisive actions to meet our existing obligations and maintain the trust of our state workers and retirees."
-Noel Brinkerhoff
To Learn More:
SEC Charges Kansas With Failing to Disclose Pension Risks (by Martin Z. Braun, Bloomberg News)
SEC Charges Kansas with Fraud (Corporate Crime Reporter)
S.E.C. Finds Bond Fraud in Kansas (by Mary Williams Walsh, New York Times)
Cease and Desist Order (Securities and Exchange Commission) (pdf)