School District to Pay Nearly $400,000 in Legal Costs after Losing Fight to Ban Boobie Bracelets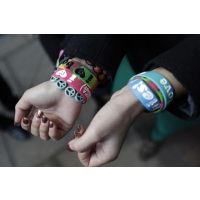 (photo Matt Rourke, AP)
Having lost its legal fight to keep "boobies" out of classrooms, a Pennsylvania school district must now pay nearly $400,000 to attorneys who fought for two middle school students' right to bring awareness to breast cancer.
The Easton Area School District imposed a ban four years ago on students wearing breast cancer awareness bracelets that read: "I ♥ Boobies! (Keep a Breast)" Two students, Brianna Hawk and Kayla Martinez, challenged the prohibition with the help of the American Civil Liberties Union of Pennsylvania, twice winning in federal court. They successfully argued the ban violated their First Amendment right to make a social or political statement, which trumped the statement's potential to offend.
Once the U.S. Supreme Court refused to hear the district's appeal, the ACLU negotiated a settlement of $385,000 with the school district to pay the lawyers who worked on the case. The Civil Rights Act (pdf) permits plaintiffs who file lawsuits challenging civil rights violations to ask the court to award attorney fees and court costs, according to Peter Hall at The Morning Call.
-Noel Brinkerhoff
To Learn More:
Easton Settles Boobies Costs for $385,000 (by Peter Hall, Morning Call)
Easton Area School District to Pay Attorneys' Fees in 'I (Heart) Boobies!' Case (by Kurt Bresswein, Express-Times)
Boobies Defeat School District in Federal Court (by Noel Brinkerhoff, AllGov)