Rise in Police Brutality and Misconduct Cases Creates New Revenue Sources for Lawyers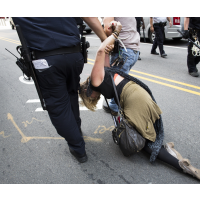 (AP photo)
The more often police are caught using excessive force or behaving badly, the more money lawyers can make off such mistakes.
With the recent spotlight on police brutality and misconduct incidents, plaintiffs' attorneys are looking to file more lawsuits against police departments and cities. Some say the cases are both a way to pursue social justice and build a business, according to The National Law Journal.
"It's one of the hot practices of law right now you see being reported and, because of that, you'll see a lot of attorneys jump into it," Dallas lawyer Daryl Washington said, according to The National Law Journal.
Another attorney, James Montgomery from Chicago, calls police brutality litigation a "cottage industry" where brutality claims and lawsuits are generating a billion dollars in settlements. Cities running the 10 largest police departments have paid $1.2 billion between 2010 and 2014 to plaintiffs, according to Montgomery. "In this country, that's $300 million in legal fees. So it's a great avenue to make money. And the police are feeding you new cases every day," he told the Journal.
-Noel Brinkerhoff
To Learn More:
Brutality Suits Provide Work for Plaintiffs Bar (by Amanda Bronstad, National Law Journal)
When Cops Lose Civil Rights Violation Judgments, They Don't Pay the Damages (by Noel Brinkerhoff, AllGov)
LAPD Destroyed Case Files for Tracking Lawsuits Involving Its Personnel (by Ken Broder, AllGov California)