Richest 1% Could Own Half the World's Wealth by 2016
Wednesday, January 21, 2015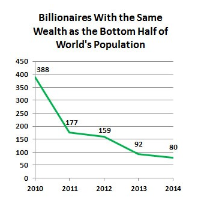 (graphic: Steve Straehley, AllGov)
The world's richest people could possess 50% of the world's wealth by next year, according to the latest report by the charity Oxfam.
The organization, which has issued previous studies warning of the growing income inequality, says a mere 80 individuals control nearly $2 trillion. That amount is nearly the same as what's owned by 3.5 billion people at the bottom of the scale.
The wealth of the very rich hasn't increased every year, however. Before 2010, when Oxfam began keeping count for this report, wealth was falling. In fact, it fell every year from 2000 to 2009. So it's possible, if for instance there were to be a stock market crash, that the rich could get a bit less richer and not fulfill Oxfam's prophecy.
Oxfam also reported that the poorest 80% of people have only 5.5% of all wealth on the planet. At least 1 billion individuals earn less than $1.25 a day, according to the group.
"Do we really want to live in a world where the 1 percent own more than the rest of us combined?" Winnie Byanyima, Oxfam's executive director, said in a statement. "The scale of global inequality is quite simply staggering."
According to Oxfam's calculations, it's not that hard to be in the 1%, according to the BBC. Owning an average house in London, without a mortgage, would be enough to put someone among the elite.
-Noel Brinkerhoff, Steve Straehley
To Learn More:
Oxfam Study Finds Richest 1% Is Likely to Control Half of Global Wealth by 2016 (by Patricia Cohen, New York Times)
Richest 1% Will Son Own 50% of All Wealth, Oxfam Warns (CBC News)
Richest 1% is About to Own More than Everyone Else Put Together: Oxfam (by Barbara Kollmeyer, MarketWatch)
Wealth: Having It All and Wanting More (Oxfam International)
Richest 1% to Own More than Rest of World, Oxfam says (BBC News)
This Chart Shows the Big Problem with that Inequality Study Everybody's Talking About (by Andy Kiersz, Business Insider)
Global Unemployment to Hit 202 Million While Wealth of Top 1% Has Increased by 60% (by Noel Brinkerhoff and Danny Biederman, AllGov)
UN Proposes 1% Tax on Billionaires (by Noel Brinkerhoff, AllGov)
Upset about the Richest 1%? The Top .000003% Own $25 Trillion (by David Wallechinsky and Noel Brinkerhoff, AllGov)