UN Proposes 1% Tax on Billionaires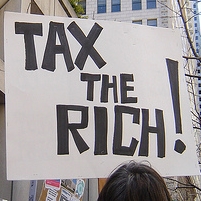 As a means to raise more money for poor nations, a 1% tax should be imposed on the world's billionaires, a United Nations' report suggested.
The "World Economic and Social Survey 2012: In Search of New Development Finance" states that more than $400 billion could be raised annually by such a levy on the globe's 1,226 billionaires.
The nation most affected by the tax would be the United States, which has 425 individuals worth at least a billion or more. Another 315 live in the Asia-Pacific region, 310 in Europe, 90 throughout the rest of the Americas and 86 in Africa and the Middle East.
Collectively, the world's billionaires own $4.6 trillion in assets, for an average of $3.75 billion in wealth per person.
The report also proposed other methods of raising funds to help impoverished nations, including imposing a carbon tax on pollution emissions by developed countries and taxes on financial transactions and currency transactions.
-Noel Brinkerhoff
To Learn More: