Record Percentage of Young Adults Living with Parents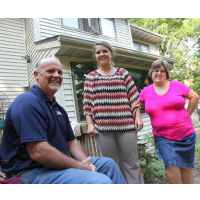 College graduate Ally Joslin with her parents Steve and Tammy (photo: Andrea Melendez, Des Moines Register)
A new report from the Pew Research Center revealed a record total of 21.6 million young adults ages 18 to 31 lived in their parents' home in 2012, up from 18.5 million of their same aged counterparts in 2007.
In terms of percentages, 36% of the Millennial generation lived with their parents, which was the highest rate in about 40 years for people ages 18 to 31.
Prior to the Great Recession, the percentage of Millennials living at home was 32%. This rate crept up to 34% by 2009, and climbed another two percentage points by last year.
Pew experts say at least a third and maybe as many as half those living with their parents are college students. (Although it was noted that the U.S. Census Bureau data used for the analysis had classified college students living in dormitories during the academic year as living with their parents).
Further crunching of the numbers showed younger Millennials (ages 18 to 24) were much more likely than older ones (ages 25 to 31) to be living with their parents—56% versus 16%. But both age groups have experienced a rise in this living arrangement since recession.
There is also a gender gap when it comes to living at home, with 40% of young men doing so versus only 32% of young women.
A combination of economic, educational and cultural factors were cited by the Pew Research Center to explain the rising trend of young adults not living on their own.
For one thing, young people are having a tougher time finding jobs. In 2012, 63% of 18- to 31-year-olds were employed, down from the 70% in 2007.
Forty-five percent of unemployed Millennials were living with parents, versus 29% of those with jobs.
More young people are also in college compared to five years ago. In March 2012, 39% of 18- to 24-year-olds were seeking higher education, up from 35% in March 2007. Among those ages 18 to 24, those enrolled in college were much more likely than those not in college to be living at home – 66% versus 50%.
-Noel Brinkerhoff
To Learn More:
A Rising Share of Young Adults Live in Their Parents' Home (by Richard Fry, Pew Research Social & Demographic Trends)
Boomerang Babies: Record Numbers of Young Adults Live with Parents at Terrible Cost (by Lynn Stuart Parramore, AlterNet)
Americans Living with Relatives Hits 60-Year High (by Noel Brinkerhoff and David Wallechinsky, AllGov)