Postal Service Turns an Operational Profit for 6th Quarter in a Row…but Loses Money Anyway Due to Prefunding of Health Benefits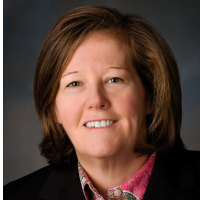 Postmaster General Megan Brennan
By most standards, the U.S. Postal Service (USPS) is doing pretty well, making a profit of $313 million in the second quarter of this fiscal year. But a congressional mandate to prefund employees' health benefits is keeping the post office in the red.
Congress in 2006 adopted the Postal Accountability and Enhancement Act which forced the USPS—which does not receive money from the federal budget—to prefund its health care benefit payments to retirees for the next 75 years. In other words, the Postal Service was ordered to pay for the benefits of workers it hasn't even hired. No other businesses, certainly not Postal Service competitors FedEx and UPS, are expected to operate that way. That prefunding takes $5.5 billion a year off the Postal Service's books.
So even though the USPS has made $1.4 billion in controllable income this year, partly due to increased package delivery services and in part thanks to a temporary postage increase that might soon go away, it's still in the financial weeds because of the benefit prefunding. The Postal Service would like that requirement removed, but it also wants to move its retirees from the USPS benefit system onto Medicare and make other changes to its personnel structure.
"While this doesn't fully reflect our financial condition it does offer the purest measure of our progress," Postmaster General Megan Brennan said. "It's also validation that we are making progress with cost containment and revenue strategies."
But the head of a postal workers' union says USPS needs to expand and bring in even more revenue. "This three-year trend in operating profitability makes clear the need to strengthen – not degrade – the now-profitable networks," said Fredric Rolando, president of the National Association of Letter Carriers. "We hope to work with lawmakers on both sides of the aisle, the administration and the new postmaster general to build on the progress achieved in the last Congress, within the mailing industry and among major stakeholders on consensus postal reform that promotes a strong and vibrant Postal Service."
-Steve Straehley
To Learn More:
Postal Service Pushes for Reforms as Finances Improve (by Andy Medici, Federal Times)
Postal Revenues Bump Up in 2015 (by Bernie Becker, The Hill)
USPS Continues to Grow Revenue While Losing Money (by Eric Katz, Government Executive)
Manufactured Crisis About to Cripple the Post Office (by Noel Brinkerhoff, AllGov)