Pension Funds Sue Big Banks over Manipulation of $12.7 Trillion Treasuries Market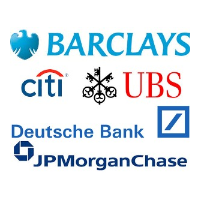 (graphic: Steve Straehley, AllGov)
At least two government pension funds have sued major banks, accusing them of manipulating the $12.7 trillion market for U.S. Treasury bonds to drive up profits, thereby costing the funds—and taxpayers—millions of dollars.
As with another case earlier this year, in which major banks were found to have manipulated the London Interbank Offered Rate (LIBOR), traders are accused of using electronic chat rooms and instant messaging to drive up the price that secondary customers pay for Treasury bonds, then conspiring to drop the price banks pay the government for the bonds, increasing the spread, or profit, for the banks. This also ends up costing taxpayers more to borrow money.
In the latest complaint, the Oklahoma Firefighters Pension and Retirement System is suing Barclays Capital, Deutsche Bank, Goldman Sachs, HSBC Securities, Merrill Lynch, Morgan Stanley, Citigroup and others, according to Courthouse News Service. Last month State-Boston Retirement System (SBRS) filed a similar complaint against 22 banks, many of which are the same defendants in the Oklahoma suit.
"Defendants are expected to be 'good citizens of the Treasury market' and compete against each other in the U.S. Treasury Securities markets; however, instead of competing, they have been working together to collusively manipulate the prices of U.S. Treasury Securities at auction and in the when-issued market, which in turn influences pricing in the secondary market for such securities as well as in markets for U.S. Treasury-Based Instruments," the Oklahoma complaint states.
The State-Boston suit, which named Bank of America Corp's Merrill Lynch unit, Citigroup, Credit Suisse Group, Deutsche Bank, Goldman Sachs, HSBC, JPMorgan Chase, UBS and 14 other defendants, makes similar charges.
SBRS uncovered the scheme when it hired economists to analyze Treasury securities price behavior, which pointed to market manipulation by the banks.
"The scheme harmed private investors who paid too much for Treasuries, and it harmed municipalities and corporations because the rates they paid on their own debt were also inflated by the manipulation," Michael Stocker, a partner at Labaton Sucharow, which represents State-Boston, said in an interview with Reuters. "Even a small manipulation in Treasury rates can result in enormous consequences."
Both the suits are seeking treble unnamed damages from the financial institutions involved. The LIBOR action earlier this year involved a settlement of $5.5 billion.
The U.S. Justice Department has reportedly launched its own investigation into the alleged Treasury market conspiracy.
-Steve Straehley
To Learn More:
Banks Rigged Treasury Bonds, Class Claims (by Lorraine Baily, Courthouse News Service)
State-Boston Retirement System, on behalf of itself and v. Bank of Nova Scotia (Courthouse News Service)
Lawsuit Accuses 22 Banks of Manipulating U.S. Treasury Auctions (by Jonathan Stempel, Reuters)
Four Banks Guilty of Currency Manipulation but, as Usual, No One's Going to Jail (by Steve Straehley and Noel Brinkerhoff, AllGov)