Outsourcing Special Ops: $2.5 Billion a Year Industry
Friday, September 12, 2014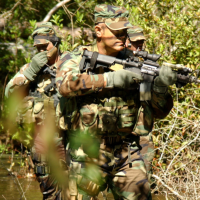 U.S. Special Operations Command troops (photo: Wikipedia)
Providing equipment and materials to U.S. Special Forces has proven quite lucrative for a select group of defense contractors, which annually make $2.5 billion off the military's elite warriors.
Crofton Black, a counterterrorism expert, found that federal spending on the US Special Operations Command totaled about $13 billion over five years (2009-2014), according to a report (pdf) he authored for the Remote Control Project at the Oxford Research Group.
More than half of that $13 billion in spending, says Black, went to just eight companies: Lockheed Martin, L-3 Communications, Boeing, Harris Corporation, Jacobs Engineering Group, MA Federal, Raytheon and ITT Corporation.
The other half of the spending was spread out among more than 3,000 different defense contractors.
The report, according to Black, offers "a glimpse [into] the usually classified world of special operations." It does this by analyzing data culled from the Federal Procurement Data System to provide "a detailed snapshot of activities carried out by the 'military industrial complex,' and points to ways in which these activities connect to remote warfare." This analysis "shows how corporations are integrated into some of the most sensitive aspects of special operations activities," from "flying drones and overseeing target acquisition… [to] interrogating prisoners and translating captured material."
"Among the most expensive individual transactions," wrote Black, "[were] radio communications from Harris Corporation; translation support in classified locations from Shee Atika LLC; procurement of drones equipment from Aerovironment Inc.; worldwide and Indian Ocean satellite services from DRS Technical Services Inc.; and IT Services from L-3."
-Noel Brinkerhoff, Danny Biederman
To Learn More:
US Special Operations Command Contracting: Data- Mining the Public Record Crofton Black September 2014 (Crofton Black) (pdf)
Lockheed Martin Reaches Deeply into U.S. Government (by Noel Brinkerhoff and David Wallechinsky, AllGov)