Outsourcing Probation Puts the Costs on the Poor
Tuesday, September 02, 2014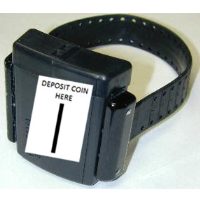 (graphic: Steve Straehley, AllGov)
Probation agencies across the country have increasingly contracted out their services to private companies, which in turn pass on their operating costs not to taxpayers but to those on probation. And that usually means low-income individuals.
One business, Sentinel Offender Services, charges offenders up to $100 a month for its services, according to Thomas Edsall, a journalism professor at Columbia University, who wrote an op-ed for The New York Times. Those on probation don't have a choice in paying the cost, as the case-management and drug counseling services they receive are court-ordered.
Sentinel is quite busy these days, working with more than 200 government agencies, many of which don't pay a dime to the company. Instead, Sentinel makes its profits from those who can least afford it.
It is "a part of the expanding universe of poverty capitalism. In this unique sector of the economy, costs of essential government services are shifted to the poor," Edsall wrote.
"When they cannot pay these assessed fees and fines – plus collection charges imposed by the private companies — offenders can be sent to jail. There are many documented cases in which courts have imprisoned those who failed to keep up with their combined fines, fees and service charges," he added.
For example, residents in Ferguson, Missouri, were already upset with local police before the Mike Brown shooting. Traffic fines, disproportionally levied on the city's African-American community, make up about 20% of the city's budget.
Human Rights Watch has also reported on this new aspect of the criminal justice system, warning that "more than 1,000 courts in several U.S. states delegate tremendous coercive power to companies that are often subject to little meaningful oversight or regulation."
Probation fees aren't the only costs some justice systems charge the accused. Washington state charges for jury trials—$250 for a 12-person jury, half that for six people, according to NPR's "All Things Considered.". All states except Hawaii and the District of Columbia charge for electronic monitoring bracelets.
-Noel Brinkerhoff, Steve Straehley
To Learn More:
The Expanding World of Poverty Capitalism (by Thomas Edsall, New York Times)
Profiting from Probation (Human Rights Watch) (pdf)
As Court Fees Rise, The Poor Are Paying The Price (by Joseph Shapiro, All Things Considered, NPR)
Outsourcing Probation: A Lucrative and Growing Industry (by Noel Brinkerhoff and Danny Biederman, AllGov)