Online Retail Trend Forces U.S. Real Estate Developers to Pursue Mall Tenants with No Internet Competition
Sunday, September 04, 2016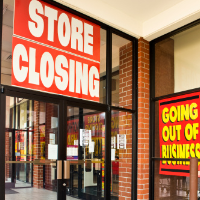 (photo: WendellandCarolyn, Getty Images)
By Justine Griffin, Tampa Bay Times Staff Writer via New York Times
At a time when many traditional retailers are shrinking store sizes or closing locations, real estate developers are trying to fill malls and shopping centers with businesses that are "Internet proof."
Online sales make up only about 7 percent of all retail transactions in the United States, according to a recent report by global real estate firm JLL. But players such as Amazon are only getting bigger while traditional department stores and big-box chains are getting smaller.
So real estate developers are looking for new tenants not directly competitive with Amazon. They're filling shopping plazas with urgent care centers and dentist offices, hair salons, gyms and restaurants instead of more brick-and-mortar stores, said Ron Wheeler, CEO of Sembler Co., a St. Petersburg real estate developer.
"What's in high demand is Internet proof," said Wheeler, whose company specializes in developing Publix-anchored shopping plazas. "It's all experiences you can't get online."
One indication of that is the emergence of grocery stores such as Whole Foods Market moving into Westfield Countryside mall where half of a Sears department store used to be. Or a brand-new housing development incorporating something different, such as a food hall, in the Heights development of the old Armature Works building just north of downtown Tampa.
International Plaza filled the former Robb & Stucky space with an upscale gym and spa. University Mall's renovation plans call for adding a gym, too.
Gone are the days when shopping malls need to rely on a big anchoring brand name to draw customers. Restaurants are quickly filling that void, retail experts said at the International Council of Shopping Centers Florida Conference in Orlando this past week.
"Shopping centers want Internet-resistant businesses now that offer services that can't be replicated online," said Mike Milano, managing director of retail services for Colliers International in Tampa. "They're willing to drive farther and stay longer if they can touch and feel something in a new way in a store."
Lowe's is experimenting with virtual reality in its home-improvement stores. In the "Holoroom," customers wear virtual reality headsets to customize and experience bathroom and kitchen designs and products before purchasing and installing them in their own homes.
Grocery stores are changing the way they serve customers, who increasingly want their food delivered, hoping to blunt the use of services such as Shipt, InstaCart and Amazon Prime Now. Whole Foods will open one of its first Whole Foods 365 stores in Gainesville next year that will likely incorporate a pizza bar and wine bar, so customers can dine at the store and pick up a few things for home on their way out. Lucky's Market, an organic grocer brand looking to expand into Tampa Bay, allows customers to sip a glass of wine or craft beer while they shop. It has cup holders installed on the carts.
"People have been spending so much more on food over the last two years. They care about where it comes from and the experience around it," said Paul Rutledge, first vice president of CBRE Inc. in Tampa and the Florida state operations chairman for ICSC.
Other brands are focusing on events. Lululemon hosts free yoga classes. Some grocery stores, including Publix, host cooking classes and wine tastings.
"What people want these days is access to food, entertainment and parks," Rutledge said. "It's that social aspect that everyone wants to be a part of. That's why retail centers are becoming more like town centers than just strip plazas now."
Seminole City Center, the redevelopment of the old Seminole Mall, is incorporating a movie theater and organic grocery store, Earth Fare, as it transitions into more of an outdoor lifestyle center in that suburban community.
While the future of retail is uncertain, this is a stopgap for developers to keep shopping plazas profitable. Bigger questions -- such as how self-driving cars will change consumers' shopping patterns and how successful programs such as "order online and pick up in store" will be in the long term -- still lack concrete answers.
"It's a really interesting time to be in the retail business right now," Rutledge said. "There are a lot of questions, but I'm excited to see what the answers will be.