Oklahoma Government Warns Insurance Companies to not Abuse Claims for Damage by Fracking Earthquakes
Wednesday, March 11, 2015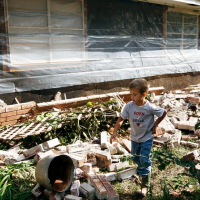 Damage from 5.6 Oklahoma quake, 2011 (photo: Sue Ogrocki, AP)
Oklahoma's top insurance official has warned insurers to not to abuse the power to deny claims for earthquake damage caused by hydraulic fracturing.
State Insurance Commissioner John Doak said the science is still out on whether fracking causes seismic activity, so insurance companies shouldn't deny claims from those with earthquake insurance. His department said that about 100 earthquake claims were filed in 2014, but only eight were paid.
"In light of the unsettled science, I am concerned that insurers could be denying claims based on the unsupported belief that these earthquakes were the result of fracking or injection well activity," Doak said, according to the Insurance Journal.
Such policies include exceptions that allow insurers to deny claims for damage caused by man-made earthquakes. Those caused by fracking could fall into that category.
With the recent increase in seismic events in Oklahoma, sales of earthquake insurance have gone up. About 15% of Oklahomans now have earthquake insurance, according to Doak's office.
-Noel Brinkerhoff
To Learn More:
Oklahoma Commissioner Warns Insurers on Denial of Earthquake Claims (Insurance Journal)
California Loses Earthquake Crown to Oklahoma (by Ken Broder, AllGov)
Fracking Earthquake Responsibility Case Goes to Court (by Noel Brinkerhoff, AllGov)