Obama Administration Underestimated Cost of Maintaining Nuclear Weapons by $140 Billion
Friday, December 27, 2013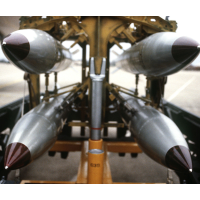 B61 nuclear bombs (photo: Department of Defense)
Defense officials in the Obama administration were more than a little off when they told Congress the cost of maintaining the nation's nuclear weapons arsenal over the next 10 years.
They missed the mark by at least $140 billion.
Two years ago, the Pentagon informed lawmakers that they would need to allocate $214 billion over the coming decade to operate and upgrade the stockpile of nuclear warheads and delivery systems.
But the Congressional Budget Office (CBO) looked at the Defense Department's future plans and found that nuclear weapons-related costs were more likely to reach $355 billion by 2023.
That's 66% higher than the 2011 estimate.
The $355 billion includes $136 billion to modernize and operate submarines, bombers and missiles that deliver warheads, $105 billion to run weapons labs, weapons and naval reactors, $56 billion for command and control systems, and $59 billion for unforeseen technical problems or mismanagement.
And that's just the direct costs related to the nuclear arsenal.
CBO officials point out there are other, very costly programs that exist because of the nuclear weapons program, such as cleaning up shuttered nuclear fuel facilities or the nation's missile defense systems for shooting down other nation's nuclear missiles.
These other costs will likely cost the government another $215 billion over the next decade.
"Nuclear weapons aren't cheap as some high-ranking Pentagon officials have suggested," Kingston Reif, director of nuclear non-proliferation at the Center for Arms Control and Non-Proliferation, an advocacy group in Washington, told the Center for Public Integrity.
Last year, Deputy Secretary of Defense Ashton Carter said that nuclear weapons are "just not that expensive," a remark that triggered controversy and a Congressional request that the CBO nail down accurate costs.
Reif added that the Obama administration should consider scaling back its plans due to mounting costs, otherwise the result will be "nuclear disarmament by financial default."
Apart from making the weapons more secure, the purpose of the nuclear modernization program, according to President Barack Obama, is "to give U.S. military and political leaders the confidence they need to negotiate further reductions in the nuclear arsenal," wrote Reuters' David Alexander.
Aspects of the modernization program are misguided and in violation of the spirit of the administration's pledge to develop no new nuclear arms, the Union of Concerned Scientists said in its own October report.
-Noel Brinkerhoff, Danny Biederman
To Learn More:
Obama Administration Understated Nuclear Weapons Costs (by R. Jeffrey Smith, Center for Public Integrity)
U.S. Nuclear Weapon Plans To Cost $355 Billion over a Decade: CBO Report (by David Alexander, Reuters)
Document: CBO Report on Cost of U.S. Nuclear Forces from 2014 to 2023 (USNI News)
Obama Pledges $11 Billion to Upgrade U.S. Nuclear Weapons (by Noel Brinkerhoff, AllGov)