Oakland VA Lost Thousands of Veterans Claims, Found Them, and Then Lost Them Again
Thursday, February 26, 2015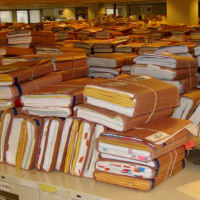 Files at the Winston-Saelm, N.C. VA office (photo: Office of the VA Inspector General)
The Oakland, California, regional office of the U.S. Department of Veterans Affairs (VA) stuffed 13,184 benefit requests, some dating back to the 1990s, into a file cabinet where they were discovered in 2012, partially processed and then promptly lost. The department's Office of Inspector General (OIG) documented the sad tale (pdf) in a report published last week.
A Veterans Benefits Administration (VBA) management support team was sent to Oakland in late 2012 and discovered the "informal" claims with no record that anyone had looked at them. An informal claim is "any type of communication or action indicating intent to apply for one or more benefits." The request could come from a claimant, a friend, an authorized representative or a member of Congress.
The VA is supposed to send informal claimants a formal application to by submitted within one year. If the application is received on time, the effective date of receipt is the date the informal claim was received. Staff members in Oakland later told investigators that informal claims were not a "priority."
The Oakland staff looked through the newfound claims and determined that 2,155 of them had not been processed. A special team was formed to process the claims and they were still hard at work in April 2014 when the supervising VBA team left town.
Sometime in April or May, during construction at the Oakland office, management found a cart of informal claims laying around that the special team had reviewed but, upon review, had not fully processed as required. So management whipped out a spreadsheet and toted up the findings, "at which time it determined staff did not process 537 informal claims."
In July, the OIG popped into the Oakland office, its Sacramento satellite office and the San Bruno Federal Records Center for a look around. What they found was a disorganized mess; what they didn't find were records of the 13,184 unprocessed informal claims or the 2,155 identified as requiring additional action. "We also could not confirm that only 537 informal claims remained to be processed following the special project team's review," the OIG said, blaming "poor record-keeping practices."
The result was almost certainly inaccurate benefits payments to some veterans and no consideration for benefits of others. Two records selected during a random sampling of unprocessed informal claims found they missed out on $3,904 in benefits for post-traumatic stress disorder and hearing loss, respectively.
The OIG recommended that the Oakland VA office finish processing the 537 informal claims, keep a closer eye on the special team counting the claims and train its employees better, in general.
The office has more than 300 employees and has about 30,000 claims pending for more than 125 days, according to Doug Oakley at the Bay Area News Group. It handles claims for veterans throughout Northern California.
Rep. Doug LaMalfa (R-Butte County), who requested the OIG involvement in 2013, told the San Francisco Chronicle he was not happy with the report: "The accountability for why these things happen doesn't have any clear conclusion. They say all these files were missing, but there's not enough information to confirm what's wrong. That's a self-perpetuating non-solution."
-Ken Broder
To Learn More:
Investigation: Oakland VA Office Lost Thousands of Veteran Claims (by Doug Oakley, Bay Area News Group)
Oakland VA Office Botched Benefits, Forgot About Claims (by Vivian Ho, San Francisco Chronicle)
Want Your Veterans Disability Benefits? Leave the State (by Ken Broder, AllGov California)
Review of Alleged Mismanagement of Informal Claims Processing at VA Regional Office Oakland, California (U.S. Department of Veterans Affairs) (pdf)