NYPD Refuses to Disclose How Many Millions in Cash and Property it seizes from Defendants, Claims Lawsuit
Saturday, August 06, 2016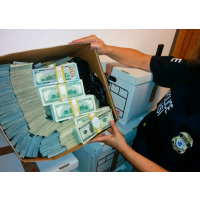 Cash seized in a police raid, 2014 (photo: Department of Justice)
By Kevin Lessmiller, Courthouse News Service
(CN) — A public defender office claims in court that the New York Police Department won't disclose how many millions of dollars it seizes in cash each year through civil forfeiture.
The Bronx Defenders sued the NYPD and outgoing Commissioner Bill Bratton on Thursday, seeking access to records "pertaining to the policies and procedures regarding, and accounting for, money and property seized from defendants incident to arrest."
According to the 14-page lawsuit (pdf), an independent journalist reported in 2014 that the NYPD seizes and retains millions of dollars in cash annually by civil forfeiture, and also takes in millions more in unclaimed cash and property.
In July 2014, Bronx Defenders filed a Freedom of Information Law, or FOIL, request with the NYPD, asking how much money and property was seized after arrests.
The NYPD responded 19 months later, providing "only two hard-copy documents and an electronic copy of the NYPD Patrol Guide," according to the lawsuit.
The two documents provided were accounting summaries, which reportedly showed that the NYPD had a balance of more than $68 million in seized cash in 2013.
"These documents satisfy, at best, only a small fraction of the records requested by petitioner," the complaint states. "With respect to the remaining records requested, the NYPD did not disclose the records sought, claim specific exemptions to disclosure, or certify that, after making a diligent search, it had determined that it does not possess the requested records."
The public defender office appealed the denial of their request in April of this year, but it says the police department didn't respond within the 10 business days recommend by FOIL.
Bronx Defenders says the NYPD didn't comply with FOIL, and it says it "has a clear right to the information about money and property seized" by police.
It seeks disclosure of the requested records and attorneys' fees. The group is represented by in-house counsel Adam Shoop and Johanna Steinberg, and by Eric Feder with Davis Wright Tremaine in New York City.
A New York City Law Department spokesperson told Courthouse News, "The city will review the complaint when we're served."
To Learn More:
Bronx Defenders v. NYPD, et al. (Supreme Court of State of New York) (pdf)
Police Departments Like to Seize Fancy Cars and Cash…Computers and Jewelry Not So Much (by Noel Brinkerhoff and Steve Straehley, AllGov)
Across U.S., Police Asset Seizures Fuel "Slush Fund" for Buying Weapons, Luxury Cars, Travel…and Even a Clown (by Noel Brinkerhoff and Steve Straehley, AllGov)
Local Governments Increase Revenue by Seizing Property Belonging to those not Charged with Crimes (by Noel Brinkerhoff and Steve Straehley, AllGov)