New Mexico Fines U.S. over Nuclear Waste Violations
Wednesday, December 10, 2014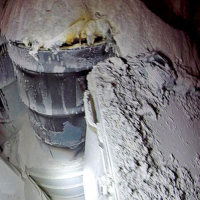 Container leaking radioactive waste at WIPP's underground facility (photo: U.S. Department of Energy)
The state of New Mexico has fined federal energy regulators and private contractors for actions that led to a serious radiation leak in the nation's only repository for nuclear waste, which is now closed for the foreseeable future.
In February, a drum of radioactive waste ruptured half a mile underground at the Waste Isolation Pilot Plant (WIPP) near Carlsbad. The leak caused temperatures to soar to 1600 degrees Fahrenheit, threatening to set off a chain reaction of ruptures in other drums.
The problem was allegedly caused when the contractor hired by the U.S. Department of Energy (DOE) mixed organic kitty litter with acid neutralizers as part of the storage of nuclear waste. It has been speculated that the use of the kitty litter resulted from a typographical error that occurred in 2012 during the process of revising a government manual on the proper handling of nuclear waste. Waste handlers had previously been instructed to stop using the litter.
The combination, according to New Mexico officials, "could lead to or cause the generation of extreme heat, pressure, fire, explosions or violent reactions; or a threat to human health or the environment."
Citing 37 violations of hazardous waste permits, the state Environment Department has thus far levied $54 million in penalties against the DOE and its contractor—$36.6 million to the Los Alamos National Laboratory (the original source of the waste) and $17.7 million to WIPP. It is the largest amount of penalties ever charged to a federal agency by the state. The figure may grow as the investigation continues.
"New Mexico is proud of our national labs and cutting-edge scientific facilities, and we have important rules in place to protect those facilities, the people who work there, and all New Mexicans," Governor Susana Martinez said in a statement. "The health and safety of New Mexicans will always be our priority and we have to hold federal agencies accountable for safe operations in the state of New Mexico."
The leak exposed at least 20 workers to radiation.
It is expected to take years to clean up the facility at an estimated cost of more than half a billion dollars. Fifty WIPP staff employees have been at work in the underground facility to make an assessment of the degree of contamination and to draft a cleanup plan.
In spite of the penalties levied by the state, the DOE and the contractors may actually get away scot-free and not be held financially liable for the disaster, according to the Los Alamos Study Group. "The state could accept corrective action in lieu of a fine, which means the contractor will get more work and money to make up for work they didn't do correctly in the first place," the watchdog group's Greg Mello told the New Mexican. "The contractor could pass on all the fines to the taxpayer. Typically, the contractor is indemnified against everything. Contractors not having to pay for their mistakes is one reason they have so many mistakes."
-Danny Biederman, Noel Brinkerhoff
To Learn More:
State Levies $54M in Fines over Nuke Repository Mishaps (by Staci Matlock, New Mexican)
New Mexico Levies $54M In Penalties Against Department Of Energy For Mishaps At Nuclear Dump (by Susan Montoya Bryan, Associated Press)
New Mexico Slaps Federal Energy Agency With $54 Million In Fines (by Laura Zuckerman, Reuters)
The Nuclear Waste Leak in New Mexico…Maybe It Wasn't the Kitty Litter After All (by Noel Brinkerhoff, AllGov)