The Nuclear Waste Leak in New Mexico…Maybe It Wasn't the Kitty Litter After All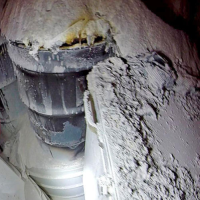 This container of radioactive waste from Los Alamos has been photographed in underground storage at WIPP with its lid unsealed and apparent heat discoloration.(photo-U.S. Department of Energy)
Since the nation's only nuclear waste disposal plant shut down four months ago following a radiation leak, some experts wondered if a change in the kitty litter (yes, kitty litter) used inside waste drums was to blame. It turns out, however, that the problem may have been caused by a mix of incompatible ingredients.
James Conca, a veteran scientist specializing in the disposal of nuclear waste, theorized recently that switching from mineral-based kitty litter—employed because it absorbs moisture inside drums containing nuclear waste—to a new "green" kind made with organic materials like wheat or corn was the culprit behind the leak on February 14.
But information has surfaced that shows officials at the Los Alamos National Laboratory (LANL), from which the nuclear waste originated, approved the use of other organic materials that aren't compatible with nitrate salts employed in preparing the waste for disposal at the Waste Isolation Pilot Plant (WIPP) near Carlsbad.
The Albuquerque Journal reported that internal LANL emails indicated the contractor that packages its waste, EnergySolutions, asked for and received approval to use new products intended to neutralize the pH balance of drum contents sent to WIPP. These changes, though, resulted in a heat reaction that breached at least one sealed container after it was buried.
Cole Smith, a chemist in the New Mexico Environment Department's Hazardous Waste Bureau, told the Journal that putting organic ingredients with nitrate salts was "a bad combination."
"It wasn't the most fantastic choice because nitrate salts in combination with organics is a bad mixture," Smith added.
William Quintana, head of the New Mexico State University chemistry department, concurred, saying: "Nitrates are oxidizers. Every chemist knows that."
Apparently, at least one didn't. As a result the WIPP may have to be shuttered for up to three years.
-Noel Brinkerhoff
To Learn More:
WIPP Probe: Emails Raise New Questions (by Lauren Villagran, Albuquerque Journal)
Source of Radioactive Leak in Nation's Only Nuclear Weapons Waste Storage Facility Remains Unsolved (by Noel Brinkerhoff, AllGov)