National Park Fees Increased for First Time in 9 Years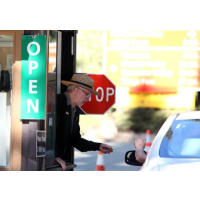 Yosemite Park ranger takes payment from visitor (photo: Gary Kazanjian, AP)
Visiting a national park this summer could mean paying more to get in. A lot more in some cases.
For the first time in nine years, the National Park Service is raising its entrance fees at 130 national parks. The increases vary widely, though some are doubling or tripling.
At Arches in southeast Utah, the cost for an annual pass will jump from $25 to $50. The fees are also going up at the "crown jewels in the park system," such as Yellowstone, Yosemite and the Grand Canyon. If you're riding a motorcycle into a park, be prepared to pay a lot more. For instance, the motorcycle fee at Joshua Tree National Park in the Southern California desert will jump from $5 to $20.
Officials say the higher fees are needed to pay for construction projects at the parks. Half of all paved roads in the system are considered either fair or poor, according to an agency report issued in 2014. In addition, maintenance needs have piled up, thanks to cuts from Congress that have eroded operating and capital budgets, The Washington Post reported.
"Basically the money is used to enhance visitor services," Kathy Kupper, a park service spokeswoman, told the Post, "like building a trail or picnic area, or an education center."
The good news is the increases are only happening at about one-third of the 407 parks, historic sites and monuments. The rest, which have been free to visit, will remain that way.
-Noel Brinkerhoff
To Learn More:
Fees Are Going Up at 130 National Parks, Many Doubling, Even Tripling, for First Time Since 2006 (by Lisa Rein, Washington Post)
Impetus For Current Move To Raise Fees Across National Park System Dates Back More Than A Decade (by Kurt Repanshek, National Parks Traveler)
Federal Judge Takes a Chunk out of Forest Service Fees in California (by Ken Broder, AllGov California)