Motorola Corners the Government Emergency Communications Systems Market…with No-Competition Contracts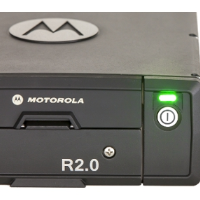 Motorola mobile workstation (photo: Motorola)
Whether it's a homicide in Chicago, a burglary in San Diego or a fire in New York City, the first responders reacting to these emergencies have one thing in common: They're all using radio equipment manufactured by Motorola.
The telecommunications maker has come to dominate the public safety communications industry, convincing police and fire departments from one end of the country to another to buy Motorola radios.
An investigation by McClatchy concluded that the company now controls 80% of the U.S. emergency telecommunications business. Motorola has managed to accomplish this feat while receiving noncompetitive contracts from local and state governments worth millions of taxpayer dollars.
"These officials, perhaps without recognizing their collective role, have helped stunt the very competition that's needed to hold down prices and assure the most efficient use of government dollars," Greg Gordon and Lydia Mulvany wrote at McClatchy.
Along the way, Motorola has won deals "clouded by irregularities or allegations of government favoritism in Chicago, Dallas, the San Francisco Bay Area and on statewide systems in Illinois, Iowa, Kansas and Washington, to name a few," according to Gordon and Mulvany.
The Fire Department of New York continues to use Motorola radios despite problems during the 9/11 attacks that caused firefighters not to hear evacuation orders in the World Trade Center's north tower.
According to the McClatchy report, a former senior Motorola executive, who declined to be identified to avoid harming relationships, said everybody knows that a cellphone costing a few hundred dollars is far more powerful than current two-way emergency radios. He said public safety agencies shouldn't be paying more than $800 for a "ruggedized cellphone."
To help the sheriff's departments in two California counties (Alameda and Contra Costa) communicate with each other, Motorola received a $5.7 million contract that eventually ballooned toward $100 million.
The state of Kansas agreed to pay Motorola $50 million without considering bids from other vendors for a new digital communications system, justifying it as an extension of a 1991 contract.
In Chicago, officials paid Motorola $23 million to protect a $2 million investment in proprietary Motorola equipment that was really worth only $350,000. The state of Iowa issued specifications for radios that specified that two knobs be 19 millimeters apart—a standard met only by Motorola products.
In many instances, the company has sold its radios for $7,500 apiece, while its competitors—shut out of the bidding process—offer similar models for only $500.
"While our public safety people do an extraordinary job in protecting the public, I am not impressed with the choices they've made relative to technology," Representative Anna Eshoo (D-California), a longtime critic of Motorola's business deals, told McClatchy.
How has the company gotten its way with so many different government entities? It has padded its corporate board with law enforcement and national intelligence chiefs and won friends by using its foundations to donate more than $26 million over a six-year period to nonprofits formed by police and firefighters.
In addition, Motorola has spent nearly $60 million over 10 years to lobby Washington and contributed nearly $2 million to the Republican and Democratic governors associations.
-Noel Brinkerhoff
To Learn More:
With Friends in Government, Motorola Beats a Path to Telecom Supremacy (by Greg Gordon and Lydia Mulvany, McClatchy)
Motorola Spreads Its Money and Influence Far and Wide (by Lydia Mulvany and Greg Gordon, McClatchy)
Misrepresentations Help Motorola Get a $50 Million Federal Grant (by Greg Gordon and Lydia Mulvany, McClatchy)