Most of $20.8 Billion BP Penalty Is Tax Deductible as a Cost of Doing Business
Wednesday, October 07, 2015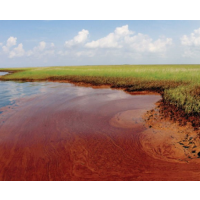 Aftermath of the Deepwater Horizon spill (photo: Charlie Riedel, AP)
The Obama administration made a big deal Monday about the settlement with BP for the Deepwater Horizon oil spill that calls for the company to pay $20.8 billion in penalties and mitigation.
But what officials at the Department of Justice didn't draw attention to is how much of the settlement BP can write off come tax time. Of the $20.8 billion, about $15 billion is tax deductible.
Of the total, $5.5 billion can't be deducted because it is categorized as a civil penalty. That portion of the deal was said to be the largest such penalty in the history of environmental law. But the remainder includes $7.1 billion in payments of natural resources damages claims under the Oil Pollution Act (pdf), and $5.9 billion on economic damages claims payable to the five Gulf of Mexico states and to local governments.
Advocacy group US PIRG said not only can BP deduct more than $15 billion from its income, it can expect a tax windfall of $5.35 billion from it.
"This not only sends the wrong message," PIRG's Michelle Surka told the Los Angeles Times, "but it also hurts taxpayers by forcing us to shoulder the burden of BP's tax windfall in the form of higher taxes, cuts to public programs, and more national debt."
-Noel Brinkerhoff
To Learn More:
BP's $20.8-billion Oil Spill Settlement May Give it a Huge Tax Deduction (by Michael Hiltzik, Los Angeles Times)
Will BP's Record Gulf Spill Settlement Amount to a Record Tax Break? (by Lauren McCauley, Common Dreams)
Deepwater Horizon Settlement Comes with $5.35 Billion Tax Windfall (U.S. Public Interest Research Group)
Why are Large Corporations Allowed Tax Deductions for Violation Settlements? (by Noel Brinkerhoff, AllGov)
Corporations Offset Fines and Penalties with Tax Write-Offs (by Matt Bewig, AllGov)