Missile Defense Agency Spent $10 Billion on 4 Projects that were Cancelled
Wednesday, April 29, 2015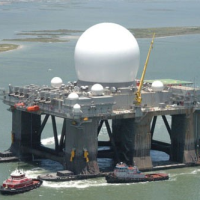 Sea-Based X-Band Radar (photo: Wikipedia)
The Department of Defense started, then discarded, four massive missile defense projects, wasting $10 billion on technology that wasn't capable of protecting the United States from foreign attack.
An investigation by the Los Angeles Times identified four programs developed by the Missile Defense Agency (MDA) that did not work as advertised:
The Sea-Based X-Band Radar (SBX), an enormous floating radar ship, was supposed to be able to detect even tiny incoming objects into U.S. airspace from thousands of miles away. SBX, built by Boeing and Raytheon, was going to guide rocket interceptors to enemy ballistic missiles before they could reach U.S. soil. But after a $2.2 billion investment, MDA realized SBX couldn't distinguish between missiles and decoys. The technology has been mothballed at Pearl Harbor in Hawaii.
The Airborne Laser was going to allow the U.S. to blast enemy missiles using lasers mounted on converted Boeing 747s. But it turned out the lasers couldn't be fired from long distance, requiring the planes to fly so close to an enemy country that they would be vulnerable to being shot down. So the MDA shut down the project, which cost $5.3 billion, according to the Times' David Willman.
The Kinetic Energy Interceptor was a rocket that was supposed to be fired from land or from a ship to intercept enemy missiles during their boost phase. However, the interceptor didn't fit on ships and didn't have the necessary range to be fired from land. After six years of development and $1.7 billion of investment, the program ended. "No matter how successful tests might one day have been, the system would have had negligible utility," a National Academy of Sciences review panel said.
The Multiple Kill Vehicle, a cluster of small interceptors that could take out enemy warheads and decoys, never even got a test flight. It burned through nearly $700 million.
"You can spend an awful lot of money and end up with nothing," Mike Corbett, a retired Air Force colonel who oversaw the agency's contracting for weapons systems from 2006 to 2009, told the Times. "MDA spent billions and billions on these programs that didn't lead anywhere."
Another retired officer, Air Force Gen. Eugene E. Habiger, former head of the U.S. Strategic Command and a member of a National Academy panel that reviewed MDA's missteps, said the agency failed to analyze alternatives or seek independent cost estimates. Or, as he put it: "They are totally off in la-la land."
-Noel Brinkerhoff
To Learn More:
The Pentagon's $10-Billion Bet Gone Bad (by David Willman, Los Angeles Times)
Another Missile Defense Test, Another Failure (by Matt Bewig, AllGov)
Reagan's Star Wars Program…More than $200 Billion Later (by Noel Brinkerhoff, AllGov)