Millions Donated to Cancer Charities Paid for Online Dating, Caribbean Cruises, Hooters Meals and Victoria's Secret Shopping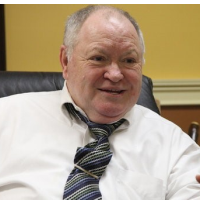 James T. Reynolds Sr. (photo: Adam Brimer, Knoxville News Sentinel, via AP)
The Federal Trade Commission (FTC) and attorneys general (AGs) from all 50 states have accused the managers of four related cancer charities of spending millions of dollars in donations on themselves instead of helping cancer patients.
The lawsuit targets the Cancer Fund of America, the Breast Cancer Society, the Children's Cancer Fund of America, and Cancer Support Services—all of which are tied to one man, James Reynolds Sr.
Reynolds Sr. runs Cancer Fund of America and Cancer Support Services, while his son, James Reynolds Jr., is the CEO of the Breast Cancer Society. The Children's Cancer Fund of America is run by Rose Perkins, the ex-wife of Reynolds Sr.
The four charities collected $187 million from 2008 through 2012, but "spent almost nothing to help actual cancer patients," according to CNN, which investigated the nonprofits two years ago.
The FTC and AGs have described the charitable operations as "sham charities" that "operated as personal fiefdoms characterized by rampant nepotism, flagrant conflicts of interest, and excessive insider compensation," according to The Wall Street Journal.
Only 3% of the monies raised by the four charities went to help cancer patients, according to the FTC. What little was spent paid for Little Debbie snack cakes, sample-size shampoos and iPod cases that were given to patients without regard for the age or gender of the patients.
The rest went towards paying telemarketing companies that helped solicit donations as well as to buy "vehicles, personal consumer goods, college tuition, gym memberships, Jet Ski outings, dating website subscriptions, luxury cruises, and tickets to concerts and professional sporting events," the lawsuit says.
Many of those who work for the charities are related to the managers. The Breast Cancer Society hired Reynolds Jr.'s wife, Kristina Hixson, to be its public relations manager. He also hired Hixson's two sisters, her son by a previous marriage, her mother and her step-nephew.
At least two of the charities, the Breast Cancer Society and the Children's Cancer Fund of America, are being shut down. The younger Reynolds will be banned from fund-raising, charity management and oversight of charitable assets. More litigation is pending against the elder Reynolds and the two remaining charities.
-Noel Brinkerhoff
To Learn More:
Government Says Four Cancer Charities are Shams (by David Fitzpatrick and Drew Griffin, CNN)
Cancer Charities Called $187 Million 'Sham' (by Cameron McWhirter, Wall Street Journal)
4 Cancer Charities Are Accused of Fraud (by Rebecca R. Ruiz, New York Times)
Five California Charities Make Worst Top 50 List (by Noel Brinkerhoff and Ken Broder, AllGov California)
Kids Wish Network "Wins" Worst Charity Designation (by Noel Brinkerhoff, AllGov)
Half of Charitable Donations Solicited by Commercial Fundraisers Goes to Overhead (by Ken Broder, AllGov California)