Majority of Americans don't have Bank Balances that Exceed One Month's Income
Monday, February 02, 2015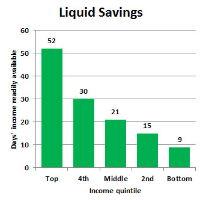 (graphic: Steve Straehley, AllGov)
The Great Recession gets the blame, and rightly so, for many financial hurdles faced by ordinary Americans. But even before the crisis in the last decade, most Americans had few assets to act as a buffer in a fiscal emergency.
Eighty percent of those in this country could live for a month or less on the money available to them from checking and savings accounts and cash at home, according to research (pdf) by the Pew Charitable Trusts. Even then some of the money in checking accounts is usually earmarked for other expenses. The top 20% has a bit more cushion, with an average of 52 days' worth of income readily available to them.
These numbers dropped only slightly during the Great Recession that began at the end of the George W. Bush administration and have recovered a bit since then.
Even when counting the money that's hard to access, such as that in 401(k) retirement accounts or getting more credit, the average household could replace only four months' worth of income.
This leaves the average American woefully unprepared for a job loss, major medical expense or other financial crisis.
Pew concluded that 70% of U.S. households face at least one of three challenges:
Almost 55% of households can't replace even one month of income through savings;
Just under half of households are income-constrained, meaning they perceive that their household spending is greater than or equal to their household income; and
Eight percent are debt-challenged, which means they report debt-payment obligations that are 41 percent or more of their gross monthly income.
This information confirms an earlier report (pdf) by the Federal Reserve Board that showed that even while average income has been rising since the end of the Great Recession, median income, that is, the point where half the people make more money and half make less, continues to fall.
-Steve Straehley
To Learn More:
The Precarious State of Family Balance Sheets (pdf) (Pew Charitable Trusts)
Household Wealth Since the Recession: Average American Down; Members of Congress Up (by Noel Brinkerhoff, AllGov)
The Key to U.S. Income Statistics: Average Family Income is Growing; Median Family Income is Falling (by Steve Straehley, AllGov)
Average American's Net Worth has Dropped One-Third in 10 Years (by Steve Straehley, AllGov)