Lack of Ebola Vaccine Blamed on Budget Cuts
Wednesday, October 15, 2014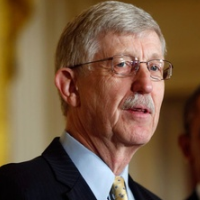 Dr. Francis Collins (AP photo)
The head of the nation's leading medical research agency has faulted budget cuts, and thus Congress, for the lack of an Ebola vaccine.
Dr. Francis Collins, director of the National Institutes of Health (NIH), told the Huffington Post that researchers have had to make do with less funding, making it difficult to dedicate sufficient time to prevent people from contracting the deadly disease.
"It's not like we suddenly woke up and thought, 'Oh my gosh, we should have something ready here,'" Collins said, noting that NIH has worked on Ebola vaccines since 2001.
"Frankly, if we had not gone through our 10-year slide in research support, we probably would have had a vaccine in time for this that would've gone through clinical trials and would have been ready," he added.
Ten years ago, NIH's budget was $28.03 billion. Today, it stands at $29.31 billion—"barely a change, even before adjusting for inflation," Sam Stein wrote at Huffington Post. The lack of funding has forced NIH to slow all its research, Collins said.
The budget of NIH's National Institute of Allergy and Infectious Diseases has actually declined—from $4.30 billion a decade ago to $4.25 billion last year.
Even now, with the media frenzy over two cases of Ebola occurring in the U.S., there is little action on Capitol Hill to provide NIH with emergency supplemental funding. "Nobody seems enthusiastic about that," Collins said.
-Noel Brinkerhoff
To Learn More:
Ebola Vaccine Would Likely Have Been Found By Now If Not For Budget Cuts: NIH Director (by Sam Stein, Huffington Post)
Is Obsession with Bioterrorism Leaving U.S. Vulnerable to "Normal" Deadly Viruses? (by Noel Brinkerhoff, AllGov)