Justice Finally Delivered to U.S. Military Members Bilked Out of Millions by Predatory USA Discounters
Saturday, October 08, 2016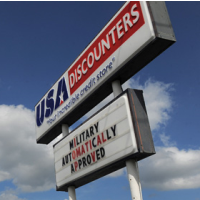 (photo: Matt McClain, Washington Post via Getty Images)
By Paul Kiel, ProPublica
A coalition of attorneys general representing 49 states and the District of Columbia announced a settlement today with USA Discounters, requiring it to pay $40 million in penalties and wipe out more than $95 million in debt for its past customers.
When ProPublica published its investigation of USA Discounters in 2014, the company was operating two dozen stores, most of them right outside the country's largest military installations.
To buy the marked-up furniture, appliances, and electronics the company offered in its showrooms, service members took out loans laden with high interest rates and extra fees. Soldiers who couldn't pay were then subject to the company's collection machine, which filed tens of thousands of collection suits in a local Virginia court regardless of wherever in the world the soldier might be.
Late in 2014, the company underwent a rebranding, dubbing itself "USA Living." Then, last year, it began to close its stores and later filed for bankruptcy.
The penalties and debt relief in today's settlement cover every state except Colorado, which settled separately with the company.
The states accused the company of a laundry list of abuses that encompass virtually every aspect of its transactions. The company misled customers about the quality and price of its merchandise, the terms of loan contracts, and its warranty and debt cancellation products, the states claimed. Then came aggressive debt collection, including calls to soldiers' chain of command when they fell behind and the lawsuits flowing through that Virginia court.
Similar complaints surfaced in ProPublica's 2014 report. One Army private bought a laptop at the company's store near Fort Bliss in Texas shortly before shipping out for Iraq. For a model that typically retailed for $650, he agreed to pay almost $3,000. After he fell behind on his payments, he was sued in Virginia while stationed in Germany. The company later sought to seize his military pay and froze his credit union account.
"It's just shameful that a company would base its business model on deceptive and abusive practices directed toward service members and veterans," said Virginia Attorney General Mark Herring, whose office was among the lead states in the investigation.
USA Discounters admitted no wrongdoing as part of the settlement and maintains that it broke no laws. Although the company shut down all of its stores last year, it continues to collect on loans made before it filed for bankruptcy.
The settlement provides relief for a range of the company's customers. Service members or veterans who had a lawsuit filed against them in Virginia despite the fact that they didn't make the purchase or live there will see the court judgment wiped out and a correction sent to credit rating agencies. Court judgments obtained against customers who actually lived where they were sued will receive a reduction of 50 percent. Older loans, those made before June 2012, will be wiped out. More recent customers will receive a credit of $100. The company also agreed to cease its aggressive debt collection going forward.
In addition, the company will pay a $40 million penalty to be divvied up among the states. It's a penalty that "is expected to keep USA Discounters from ever reopening," according to Herring's press release.
To Learn More:
In Major Settlement, States Gang Up to Strike Deal with Soldier-Suing Company (by Paul Kiel, ProPublica)
Members of U.S. Military Subjected to Aggressive Collection Tactics of Litigious Loan Operation (by Noel Brinkerhoff and Steve Straehley, AllGov)