Judge Rules "Happy Birthday To You" is in Public Domain, Not Owned by Warner Music
Thursday, September 24, 2015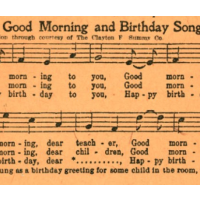 Original music sheet for Birthday Song (photo: from court filing, Wolf Haldenstein Adler Freeman & Herz LLP)
A judge has just given a big present to everyone who ever celebrated a birthday.
Federal District Judge George H. King ruled (pdf) Tuesday that Warner/Chappell, the subsidiary of Warner Music that claimed to hold the "Happy Birthday" copyright since it bought the previous holder, Birch Tree Group, in 1988, has no right to collect royalties on the song.
Before that, the song's copyright was in the hands of Clayton F. Summy Co., going back to 1935, but King ruled that Summy owned only specific piano arrangements to the music. The song was written in 1893 by sisters Patty Smith Hill and Mildred J. Hill.
The challenge to the copyright came from filmmaker Jennifer Nelson, who has been making a documentary about the history of "Happy Birthday," and other plaintiffs who objected to Warner Music collecting thousands of dollars in royalties per use of the song. "'Happy Birthday' is finally free after 80 years," Randall Newman, an attorney for the plaintiffs, told the Los Angeles Times. "Finally, the charade is over. It's unbelievable."
Royalties from the song were often collected from stage productions, television shows, movies and greeting cards. "But even those who wanted to sing the song publicly as part of a business, say a restaurant owner giving out free birthday cake to patrons, technically had to pay to use the song, prompting creative renditions at chain eateries trying to avoid paying royalties," the Times' Christine Mai-Duc wrote.
Warner/Chappell has collected six-figure royalties for certain single uses of the song, which has generated as much as $2 million a year for the company. A third of the royalties have gone to a group designated by the Hill family, Association for Childhood Education International. The Times reported that the charity's 2012 tax filing indicated it received $754,108 in royalties.
Warner could now be on the hook to refund royalties paid for the song's use back to 1988 and perhaps all the way back to 1935, according to Mark C. Rifkin, one of Nelson's attorneys.
-Noel Brinkerhoff, Steve Straehley
To Learn More:
All the 'Happy Birthday' Song Copyright Claims Are Invalid, Federal Judge Rules (by Christine Mai-Duc, Los Angeles Times)
'Happy Birthday' Not Under Copyright Protection, Judge Rules (by Ted Johnson, Variety)
Rupa Marya v. Warner/Chappell Music (U.S. District Court, Central California) (pdf)
Why is Time-Warner Allowed to Collect Royalties on "Happy Birthday to You"? (by Danny Biederman and Noel Brinkerhoff, AllGov)