Why is Time-Warner Allowed to Collect Royalties on "Happy Birthday to You"?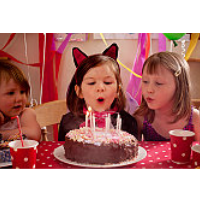 (photo: Getty Images)
It's been in existence for about 120 years and is considered the most famous song in the English language. It's been sung by every American and is performed daily without anyone giving it a thought. But one company charges big bucks for its use.
A division of Time-Warner has been getting away with charging Hollywood for the rights to use "Happy Birthday to You," even though the famous song may have been in the public domain for decades.
Warner/Chappell Music, the music-publishing arm of Warner Music Group, says it has charged production companies a wide range of fees for the use of "Happy Birthday to You," whether in whole or part. Scott McDowell, the company's head of legal and business affairs, testified in court that the music firm charges anywhere from a minimum of $500 to upwards of six figures--that high end being for use in a major motion picture.
Lawyers for Warner/Chappell say it can legally collect royalties for the 120-year-old song because it owns a chain of title to a valid federal copyright registration dating back to 1935.
But two New York music producers, a California musician and a film producer have sued Warner/Chappell to stop it from continuing to make money off the melody.
"If you don't pay for the license to the song they will notify you and let you know that you have to pay," Jennifer Nelson, president of Good Morning to You Productions, one of the plaintiffs in the case, told Courthouse News Service. "They've never actually sued anybody but they have strong-armed people into having to pay."
On that point, she speaks from first-hand experience, having had to pay $1,500 to Warner/Chappell in order to use 10 seconds of the song at a festival. Two other plaintiffs paid $455 and $3,000, respectively, for using the song. Their class action lawsuit, they say, was filed on behalf of anyone who had to pay the company for using the song since June 2009.
Ownership of "Happy Birthday to You" has been disputed for over 80 years. Other lawsuits over copyright ownership of the song were filed primarily in the 1930s and 1940s, but the issue was never resolved.
Nelson contends it has been in the public domain for 65 years, a fact that should invalidate Warner/Chappell's royalties claim. After three decades of being performed, it became a public work and was not copyrightable, she points out. The chain-of-title registration that the music firm says it owns only pertained to "specific piano arrangements," according to the lawsuit.
Court records show that a St. Louisville, Kentucky, school teacher, Mildred Hill, composed the original melody for "Happy Birthday to You" in the late 1800s. Mill's sister, Patty, wrote the lyrics. It was in fact part of a larger musical composition titled "Good Morning to All." The sisters sold their rights to the birthday song to the Clayton F. Summy Company for songbook publication and were to be paid 10% of all retail sales.
Warner/Chappell claims it acquired the Summy copyright registrations to the song through a $15-million acquisition of the company's successor in 1988.
Both sides in the legal case have presented their arguments to U.S. District Judge George King in Los Angeles. He has not indicated when he will make his ruling. If he doesn't side with either party, the case could go to trial.
-Danny Biederman, Noel Brinkerhoff
To Learn More:
'Happy Birthday' a Cash Cow for Warner/Chappell (by Matt Reynolds, Courthouse News Service)
Judge Hears Copyright Fight Over 'Happy Birthday To You' (by Amanda Bronstad, National Law Journal)
You Say It's Your Birthday (by Paul Collins, Slate)