Increase in Female Physicians Drives Doctors' Political Contributions to Democrats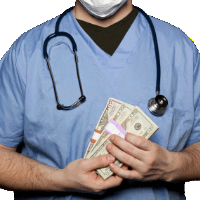 Physicians are no longer a reliable donor group for the Republican Party, thanks in part to the growing number of women in the profession.
A new study by researchers in California and New York found that the percentage of physicians who contribute to GOP politicians declined from the early 1990s to 2011-2012.
"Between 1991 and 2012, the political alignment of U.S. physicians shifted from predominantly Republican toward the Democrats," authors Adam Bonica of Stanford University, Howard Rosenthal of New York University, and David J. Rothman of the Columbia College of Physicians and Surgeons wrote.
"The variables driving this change, including the increasing percentage of female physicians and the decreasing percentage of physicians in solo and small practices, are likely to drive further changes," they added.
By 2007-2008, the percentage of doctors financially supporting Republicans declined to less than 50%, the research showed. More recently, 52.4% of male doctors who made political contributions did so to the GOP during 2011-2012, while only 23.6% of women doctors chose the Republicans.
While money from physicians has shifted away from the Republican Party, the profession's overall political giving has increased dramatically. Over the course of two decades, doctors' contributions jumped from $20 million to $189 million, according to the study.
Gender wasn't the only thing driving the difference in donations. Higher earning doctors tended to give more to Republicans. For instance, surgeons donated 48.1% more to Republicans than did pediatricians in the 2012 election cycle.
There were two times during the period in question when physicians' contributions to Republicans actually went up—which just happened to be when Democrats tried to adopt healthcare reform. Those times were 1993-1994 (President Bill Clinton's failed attempt) and 2009-2010 (following the adoption of Obamacare).
-Noel Brinkerhoff
To Learn More:
The Political Polarization of Physicians in the United States (by Adam Bonica, Howard Rosenthal and David J. Rothman, JAMA Internal Medicine) (abstract)
Doctors Are Donating Less Often to Republican Candidates (by Jason Millman, Washington Post)