In Another Reversal, Federal Court Rules 2 Million Home Health Care Workers Do Qualify for Minimum Wage Law Guarantees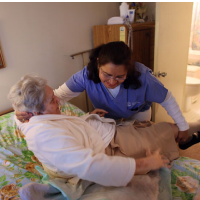 (photo: Joe Raedle, Getty Images}
A federal appeals court has ruled that the Labor Department may indeed specify that home health care workers are entitled to the same minimum wage and overtime protection as most other workers.
Home health care workers had been exempt from such protections since 1974, when it was found that they mostly provide "companionship" and as such were exempted from wage and hour laws. President Barack Obama's Labor Department proposed to change this in 2013, but was blocked by a trial-court judge who ruled the department didn't have the authority to make the change.
Now, a three-judge panel of the U.S. Appeals Court for the D.C. Circuit has ruled unanimously that the Labor Department may extend the Fair Labor Standards Act's protection to home health care workers. Two of the judges are Obama appointees, the third was appointed by George W. Bush. "The Department's decision to extend the FLSA's protections to those employees is grounded in a reasonable interpretation of the statute and is neither arbitrary nor capricious," Judge Sri Srinivasan wrote for the court.
The Labor Department, in a statement, said the decision was "the right thing to do—both for employees, whose demanding work merits these fundamental wage guarantees, and for recipients of services, who deserve a stable and professional workforce allowing them to remain in their homes and communities."
Home health care workers are overwhelmingly women and about half are persons of color, two groups often at the short end of government protections.
Fifteen states already extend state minimum wage and overtime protections to home care workers, and another six states and Washington, D.C., have minimum wage protections. They supported the change. Nine other states—Arizona, Georgia, Kansas, Michigan, Nevada, North Dakota, Tennessee, Texas and Wisconsin—fought the new policy, saying it would cost them more in Medicaid costs. All those states are run by Republicans.
-Steve Straehley
To Learn More:
Appeals Court Reinstates Wage Rules for Home Care Workers (by Sam Hananel, Associated Press)
Court Ruling Grants Home Care Workers Minimum Wage, Overtime Protections (by Bryce Covert, ThinkProgress)
Federal Judge Blocks Minimum-Wage Protections for Home Care Workers (by Noel Brinkerhoff, AllGov)
After 40 Years, Home Health Care Workers Finally Gain Minimum Wage and Overtime Rights (by Noel Brinkerhoff, AllGov)