Federal Judge Blocks Minimum-Wage Protections for Home Care Workers
Sunday, December 28, 2014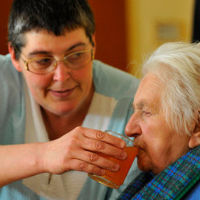 Home care aide (photo: Associated Press)
Home care workers will not receive the same minimum wage and overtime protections that other workers enjoy after a federal judge ruled (pdf) last Monday against an Obama administration attempt to institute them via regulation.
U.S. District Judge Richard Leon threw out a new regulation adopted by the U.S. Department of Labor that extended minimum wage and overtime pay guarantees to home care workers effective January 1.
The Obama administration sought to expand protections provided under the 1974 Fair Labor Standards Act (pdf) (FLSA), which included an exemption for home care workers who provide "care and fellowship" to their clients. Congress was unwilling to amend the FLSA to provide minimum wages to those workers, so the Labor Department attempted to do it by way of a regulation.
But Home Care Association of America, the International Franchise Association, and the National Association for Home Care & Hospice sued in federal court, claiming the regulation would have a "destabilizing impact" on employers.
Leon, who was nominated to the bench by President George W. Bush in 2001, sided with the plaintiffs, saying the agency exceeded its legal authority in attempting a change that Congress didn't approve, calling the rule a "thinly-veiled effort to do through regulation what could not be done through legislation."
Representing one of the fastest-growing industries in the nation, home care workers made an average of $9.67 in 2013, according to Bryce Covert at ThinkProgress.
"Because they aren't guaranteed the federal minimum wage of $7.25, many make poverty wages: nearly a third of New York City aides make less than $15,000 a year. Nearly 40 percent of the workforce makes so little that they turn to public benefits to get by," Covert wrote.
-Noel Brinkerhoff
To Learn More:
Judge Takes Away Minimum Wage Protections From Home Care Workers (by Bryce Covert, Think Progress)
Judge Rebukes Labor Department's 'Arrogance' (by Andrew Thompson, Courthouse News Service)
Home Care Association of America v. David Weil (U.S. District Court, District of Columbia) (pdf)
After 40 Years, Home Health Care Workers Finally Gain Minimum Wage and Overtime Rights (by Noel Brinkerhoff, AllGov)