Homeland Security Audit Criticizes Border Patrol Drone Program as a Waste of Money
Thursday, January 08, 2015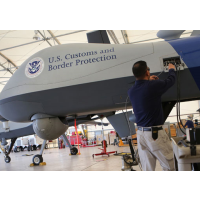 Border Patrol drone used at the Mexican border (photo: John Moore, Getty)
A multi-million-dollar investment in drone technology by the Customs and Border Protection (CBP) has largely been a waste, according to the Department of Homeland Security's (DHS) top internal watchdog.
DHS' Office of Inspector General says in a new report (pdf) that CBP has not delivered the kinds of results it promised from spending at least $62.5 million so far on drones.
The unmanned aircraft were supposed to help law enforcement do a better job of capturing those crossing the border illegally, but the report of Inspector General John Roth says CBP's drones assisted in only 2% of these efforts in 2013. Drones were involved with only 1% of Arizona marijuana seizures and 4% of those in Texas.
CBP has insisted that drones allow the agency to keep watch over the entire border with Mexico but the IG found most operated within a 100-mile area in Arizona and a 70-mile area in Texas.
"We believe it is misleading for CBP to report that its unmanned aircraft operate over every stretch of the southwest border," when its flights over California and New Mexico appeared to be part of a different mission, according to the IG.
The agency has also grossly miscalculated the costs of the drones. It originally said the per-hour cost of flying them would be $2,468. Instead, when the costs of pilots, equipment, and overhead are included, it has been $12,255 per hour.
The IG scoffed at the request by CBP to spend another $443 million to expand the program with 14 more aircraft.
"Notwithstanding the significant investment, we see no evidence that the drones contribute to a more secure border, and there is no reason to invest additional taxpayer funds at this time," Roth said in a statement. "Securing our borders is a crucial mission for CBP and DHS. CBP's drone program has so far fallen far short of being an asset to that effort."
-Noel Brinkerhoff
To Learn More:
U.S. Customs and Border Protection's Unmanned Aircraft System Program Does Not Achieve Intended Results or Recognize All Costs of Operations (Department of Homeland Security, Inspector General) (pdf)
Border Patrol Drones Given Scathing Report by U.S. Auditors (by Lorraine Bailey, Courthouse News Service)
Border Patrol Uses Drones to Battle Marijuana Trade (by Noel Brinkerhoff, AllGov)