Generic Medicines Used to be Cheap…Not Any More
Wednesday, August 12, 2015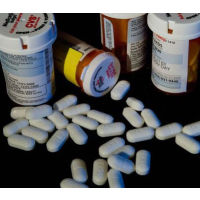 (photo: Paul J. Richards, AFP/Getty Images)
Disappearing are the days of going to the pharmacy and asking for a generic version of a drug and expecting it to cost a lot less than its name brand equivalent. Consolidation in the generic drug industry has allowed manufacturers to raise prices dramatically.
Only two years ago, the cost of the antibiotic tetracycline in generic form was only $1.50 for pharmacies, according to Steve Hendricks at Truthout. But by 2014, the same drug cost $257.70 … a 17,080% increase. Another antibiotic, doxycycline, went from costing $1.20 to $111 in just six months. That's an increase of 9,150%.
One of the big players in the generic field is Israeli company Teva Pharmaceuticals. Teva has bought up competitors and as it has done so, it has raised its prices. The company now controls 22% of the generic market.
Teva even bought a name-brand manufacturer, Cephalon, and in doing so became liable to pay a $1.2 billion fine for paying generic companies to give up their rights to manufacture a drug after patent protection expires. "Pay for delay" lets a drug's originator keep its monopoly longer. Its drug Provigil went from $166 for a month's supply to $1,001.
Hendricks also cited data from Medicare and Medicaid that showed from July 2013 to July 2014, "the price of half of all generics went up, and nearly 10 percent of them went up by double or more," he wrote. Among that 10%, the average increase was 448%.
Something that would help cut costs would be giving the federal government the right to negotiate Medicare Part D drug prices. President George W. Bush and the Republican-controlled Congress inexplicably gave up that right when the law was passed in 2003.
-Noel Brinkerhoff, Steve Straehley
To Learn More:
The Rise of Big Generic: Why Knockoff Prescriptions Now Cost $1,200 (by Steve Hendricks, Truthout)
How High? The Backlash Over Rising Prescription Drug Prices Gains Steam (by Ed Silverman, Wall Street Journal)
CVS Health Accused in Suit of Overcharging for Generic Drugs (by Michael Hytha, Bloomberg)
This Hepatitis C Drug, Developed with U.S. Government-Funded Research, Costs $300 per Treatment Course in India…and $84,000 in the U.S. (by Noel Brinkerhoff and Steve Straehley, AllGov)