Goldman Sachs Gets Harsh Words but Open Pockets from Congressional Subcommittees
Tuesday, November 25, 2014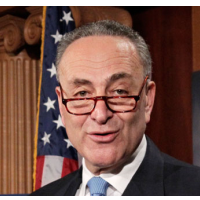 Sen. Charles Schumer (AP photo)
Recent events in Congress might lead one to think that Goldman Sachs has been putting its money in the wrong place if the point of hefty contributions is to win key friends.
In one corner of the Senate, a powerful lawmaker was letting Goldman have it over the financial giant's investments—and influence—in the commodities market. Senator Carl Levin (D-Michigan), chairman of the Senate's Permanent Subcommittee on Investigations, charged that Goldman's control of aluminum supplies, coal mines, and a uranium company put it in a position to sway commodities prices.
Goldman's ownership of several warehouses in Detroit that store aluminum is particularly troubling. The company has instituted policies that make it difficult for buyers to get the metal out of warehouses, which drives up the prices of finished goods for consumers.
Goldman executives at the hearing remained defiant, according to The New York Times, saying they had no intention of selling of the bank's investments in the industries cited by Levin.
Perhaps the bank would have been better off if it had poured more contributions into Levin's campaign coffers. Goldman has not been shy about writing large checks to key senators, such as those serving on the Senate Banking Committee.
OpenSecrets.org reported that 13 of the 15 members on the committee's Financial Institutions and Consumer Protection Subcommittee have accepted contributions from Goldman.
According to the watchdog, Goldman has donated $1.1 million to current subcommittee members since 1989 — $911,000 of which went to Democrats. More than half of that total went to one individual, Senator Charles Schumer (D-New York).
In fact, OpenSecrets.org added, "Schumer has received more from Goldman over the course of his career than any other current member of the Senate — and more from Goldman than from any other organization."
-Noel Brinkerhoff
To Learn More:
Goldman May Hear Harsh Words at Hearing, But Has Backed Many on Panel (by John Sugden, OpenSecrets.org)
Senate Spars with Goldman Sachs over Commodities (by Nathaniel Popper, New York Times)
Exploiting Regulation Loophole, Goldman Sachs Gains Billions from Warehousing Aluminum (by Noel Brinkerhoff, AllGov)