For the First Time in at Least 10 Years, a Decline in the Number of Americans Reporting Trouble Paying Medical Bills
Tuesday, January 27, 2015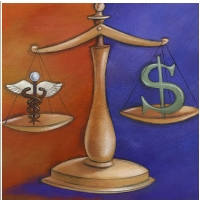 (graphic: Southern Beauty)
Fewer Americans are having trouble paying their medical bills, according to a new health insurance survey.
The Commonwealth Fund Biennial Health Insurance Survey (pdf) for 2014 revealed the number of people who said they were struggling to pay their medical bills went down from about 75 million people in 2012 to 64 million people last year. It's the first time such a decline has occurred since The Commonwealth Fund began posing that survey question in 2005.
The survey also showed that due to the implementation of Obamacare, the number of uninsured working-age adults in the U.S. declined from 37 million (or 20% of the population) in 2010 to 29 million (or 16%) by the second half of last year.
The rise in people with health insurance meant also meant fewer people skipped going to the doctor in 2014.
"The number of adults who did not get needed health care because of cost declined from 80 million people, or 43 percent, in 2012 to 66 million, or 36 percent, in 2014," researcher Sara Collins, Petra Rasmussen, Michelle Doty and Sophie Beutel wrote in their survey brief for The Commonwealth Fund.
-Noel Brinkerhoff
To Learn More:
The Rise in Health Care Coverage and Affordability Since Health Reform Took Effect (by Sara R. Collins, Petra W. Rasmussen, Michelle M. Doty and Sophie Beutel, The Commonwealth Fund) (pdf)
The Rise in Health Care Coverage and Affordability Since Health Reform Took Effect (The Commonwealth Fund)
Most Americans who Would Benefit from Affordable Care Act are Clueless about what it Does (by Noel Brinkerhoff, AllGov)
Twice as Many Affordable Care Enrollees in Democratic States as in Republican Ones (by Steve Straehley, AllGov)