Female CEOs Earn more than Males, but Make Up Only 5% of Executive Leaders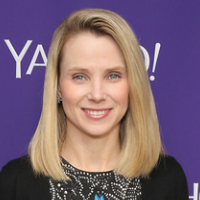 Marissa Mayer (photo: Cindy Ord, Getty Images for Yahoo)
By Sarah Skidmore Sell, AP Business Writer
For the second year in a row, female CEOs earned more than their male counterparts and received bigger raises. But only a small sliver of the largest companies are run by women, and experts say gender parity at the top remains way off.
The median pay for a female CEO was nearly $18 million last year, up about 13 percent from 2014. By comparison, male CEOs' median pay was $10.5 million, up just 3 percent from a year earlier, according to an analysis by executive compensation data firm Equilar and The Associated Press.
A pay hike doesn't tell the full story though.
The jump is largely due to the small sample size: only 17 of the 341 CEOs analyzed by Equilar and the AP were women. That means any one CEO's compensation — Yahoo CEO Marissa Mayer's nearly $36 million package, for example, or Mary Dillon's 200 percent raise at Ulta — can skew the results.
Of the 10 highest paid CEOs on the list, only one was a woman: Yahoo's Marissa Mayer, whose own position is in jeopardy amid questions about the company's future.
The next highest-paid woman was Indra Nooyi, Chairman and CEO of PepsiCo Inc., who earned $22.2 million. General Dynamics CEO Phebe Novakovic came in third at $20.4 million. The lowest-paid female CEO on the list was Lauralee Martin of HCP, a health care real estate investment trust, whose pay package was valued at $800,000.
The only black woman to make the list — Ursula Burns of Xerox — is giving up her CEO role soon to serve as chairman of the document technology company after the business splits in two.
Women led companies in a variety of industries including technology, defense and aerospace and retail. While there are few women at the helm, they tended to be in higher paying industries or positions — making up 10 of the top 100 highest paid overall.
A recent report by S&P Global Market Intelligence highlights the gulf between words and actions in hiring women as CEOs.
"Despite all of the attention placed on increasing the number of female executives at American companies, the needle on the gender gap has hardly moved," the report's author, Pavle Sabic, wrote.
Sabic looked at the entire Standard & Poor's 500 index from 2006 to 2015 and found the number of female CEOs rose from 16 to 21 — an increase of one new female CEO every two years.
"The gender gap at the CEO level ... is not closing," he wrote.
It's an issue of both corporate and community culture, says Serena Fong, vice president of governmental affairs at Catalyst, a nonprofit that aims to expand opportunities for women in business. She said there are unconscious biases against women in the workplace that work their way into hiring and development practices.
Proponents of equality say female CEOs can help the reputation, recruitment and bottom line of businesses.
The data is there to support the hires but change is happening slowly, said Leslie Gaines-Ross, chief reputation strategist at Weber Shandwick, which studied the reputation factor of female CEOs.
"We are going to see ... more progress because companies care about their reputations and boards care about their reputations," Gaines-Ross said. "It's going to happen, it's just not going to happen fast enough."
Equilar only looked at companies in the Standard & Poor's 500 index that filed proxy statements with federal regulators between Jan. 1 and April 30, 2016. To avoid the distortions caused by sign-on bonuses, the sample includes only CEOs in place for at least two years.
That methodology means some CEOs, such as Mary Barra of General Motors, were not included.
To calculate pay, Equilar adds salary, bonus, perks, stock awards, stock option awards and other compensation. To determine what stock and option awards are worth, Equilar uses the value of an award on the day it is granted. For options, this includes an estimate of what the award could be worth in the future. Their actual value in the future can vary widely from what the company estimates.
To Learn More:
S&P 500 CEO Pay Study 2016 (Equilar/Associated Press)
U.S. Trails Allies in Percentage of Women on Corporate Boards (by Noel Brinkerhoff, AllGov)
Companies with Women CEOs Outperform those Led by Men (by Noel Brinkerhoff, AllGov)
Little Progress for Women Execs in California's Top Corporations (by Ken Broder, AllGov California)