Fed Offers Public $90,000 for Ideas on How to Reduce Its $9 Billion Annual Travel Expenses
Saturday, February 22, 2014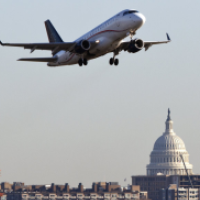 (photo: J. Scott Applewhite, AP)
The Obama administration admits that the federal government spends too much money on travel. But officials aren't sure how to cut down on this expenditure, so one agency is asking for ideas from the American public.
The General Services Administration (GSA) says it's willing to pay $90,000 for solutions to bringing down Washington's annual travel cost of $9 billion.
Specifically, GSA is looking for a "digital interactive tool" that will reveal where federal agencies can save money when officials decide to jet off somewhere.
Anyone with ideas can go to a new GSA website, Travel Data Challenge, which is operated by the agency's Office of Governmentwide Policy.
The person(s) with the best idea will receive $35,000, while the runner up will get $30,000 and the honorable mention $25,000.
Ideally, the new tool will incorporate "visual displays to show primary cost drivers," and "allow travel managers to monitor travelers' behaviors and suggest improvements," Eric Katz wrote at Government Executive.
The Obama administration has tried other ways to cut down on travel-related expenses, like simply telling agencies (pdf) to reduce this portion of their budgets by 30%. But the GSA announcement would seem to demonstrate that spending less is more difficult than it sounds.
The bottom line for what the GSA is seeking from the public, it says, is a way "to help [U.S. government] agencies make smarter business decisions, and to allow them to drive greater saving and efficiencies." If the federal government can actually be provided with that kind of a solution for a mere $90,000, safe to say it would be a steal.
-Noel Brinkerhoff
To Learn More:
Federal Government Seeks Public Solution to Spending Less on Travel (by Eric Katz, Government Executive)
GSA Travel Data Challenge (U.S. General Services Administration)
Much of U.S. Government Grounded as Budget Cuts Take Toll on Air Travel (by Noel Brinkerhoff, AllGov)
Federal Trade Commission Spending Heavily on Travel to Nations Outside Its Jurisdiction (by Noel Brinkerhoff, AllGov)