FDA Opens Door to Less Expensive Drugs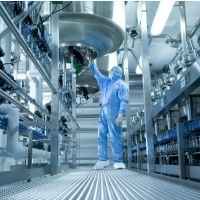 Biosimilar drugs in production at a Novartis plant (photo: Novartis Corp.)
In a move long fought by Big Pharma, the Food and Drug Administration (FDA) has approved the first generic version of a biologic drug, or biosimilar, in the United States, which could reduce the amount of money spent on the specialty medications.
Biologics are made from living cells, rather than being derived from chemicals, as is the case with most drugs. They can be quite expensive and, in fact, some biologics are on the list of the world's most expensive therapies.
Until now, makers of biologics, like Amgen, have been able to charge whatever they want for their products because of the lack of biosimilars acting as competition. But the FDA decision to approve Sandoz's Zarxio, which helps prevent infections in cancer patients undergoing chemotherapy, could open the way for more biosimilars to reach the market and compete with their biologic counterparts. The FDA action was made possible by certain provisions (pdf) in the Affordable Care Act.
"This is the first approval for low-cost alternatives to biological drugs," Ronny Gal, a senior research analyst who focuses on specialty pharmaceuticals at Sanford C. Bernstein & Company, told The New York Times in an email. "It will reasonably allow for reduction of cost in older cancer care drugs, clearing room in the budgets for new breakthrough cancer agents."
The Zarxio approval will directly affect the sales of Amgen's Neupogen, which also targets chemo patients with infections and has been on the market as a licensed drug since 1991. Amgen has gone to court in an effort to block the sale of Zarxio.
Since 2009 Zarxio has been available as an approved drug in Europe (marketed under the name Zarzio). Its availability in the U.S. market could save $5.7 billion in drug costs over the next 10 years, according to Express Scripts.
-Noel Brinkerhoff
To Learn More:
FDA Approves First Biosimilar Product Zarxio (Food and Drug Administration)
F.D.A. Approves Zarxio, Its First Biosimilar Drug (by Sabrina Tavernise and Andrew Pollack, New York Times)
The FDA Just Took A Big Step Toward Making Drugs More Affordable (by Daniel Llaou, ThinkProgress)