Energy Department Questions Bechtel's Ability to Clean up Nuclear Waste Site by 2070
Monday, September 07, 2015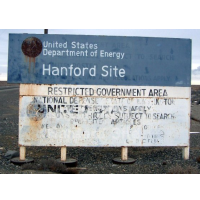 The cleanup of the Hanford nuclear facility, which has been in progress for more than 25 years already, is unlikely to be completed any time soon, according to a leaked evaluation.
Contracting giant Bechtel is supposed to be building a Low Activity Waste (LAW) facility to handle some of the waste pumped from underground storage at the Hanford facility in Washington state. LAW "is unlikely to achieve operational status within the anticipated timescale or achieve an acceptable [capacity]," according to the review (pdf), which was completed in 2014.
Auditors found 362 "significant design vulnerabilities" in the plant "for which mitigation is recommended prior to initiating nuclear operations," according to the report.
The bottom line is that according to its 2016 budget, the Department of Energy (DOE) has a 50% to 80% confidence level that the mess will be cleaned up—by 2070, according to the Project on Government Oversight (POGO).
While working on the project, Bechtel has gotten rid of a scientist, Walt Tamosaitis, who pointed out that design flaws that could cause high-activity radioactive waste to explode and the company has provided incorrect information to DOE, Jacob Marx of POGO reported. A report from the Government Accountability Office said that estimates for two facilities, including LAW, "are not reliable because they do not meet industry best practices for reliable cost and schedule estimates."
And the LAW project isn't Bechtel's only problem with the Hanford facility. The Department of Labor ordered the company to pay a settlement to a millwright who was laid off after reporting safety violations in the construction of the plant. The department found that Walt Ford would have been eventually laid off anyway, but ordered he be paid several months' worth of back wages plus $25,000.
In another case, the state of Washington announced last week that it is suing DOE and another contractor, Washington River Protection Solutions, saying they allowed workers to be exposed to plutonium and 1,500 other dangerous chemicals at the plant, according to June Williams of Courthouse News Service. The 56 million gallons of radioactive and hazardous waste stored at the plant produce volatile chemicals including hydrogen, ammonia, mercury and volatile organic compounds such as benzene, nitrous oxide, butanol, acetone, hexane, and xylene that build up in the tanks, according to the complaint.
"For years, Washington workers have been exposed to noxious fumes and chemical vapors as they clean up the federal government's nuclear site at Hanford," Attorney General Bob Ferguson said in a statement announcing the suit. "Enough is enough. The health risks are real, and the state is taking action today to ensure the federal government protects these workers now and in the future."
A series of studies has shown again and again that workers are being made sick by chemicals in the plant. "Despite 20 years of study and multiple reports, the federal government has not implemented a lasting solution and workers continue to get sick," Ferguson said. "Since March 2014, at least 50 workers have sought medical attention for exposure to chemical vapors at the site. In June 2015, another 13 workers were exposed to vapors. Just weeks ago, on Aug. 14, an instrument technician at a double-shell tank farm was exposed to apparent vapors. He was not wearing respiratory protection because none has been required in the double-shell tank farms."
-Steve Straehley
To Learn More:
Can Bechtel Get the Job Done at the Hanford Site? (by Jacob Marx, Project on Government Oversight)
WTP Low-Activity Waste Facility and Design and Operability Review and Recommendations (pdf)
State Wants Action at Hanford Nuke Dump (by June Williams, Courthouse News Service)
Federal Investigation Finds Discrimination Against Hanford Whistleblower (by Annette Cary, Tri-City Herald)
Nuclear Site Safety Official Fired After Her Repeated Warnings of Safety Problems (by Noel Brinkerhoff, AllGov)
As Hanford Radioactive Leak Continues, Clean-Up Contractor Pays Fraud Penalty (by Noel Brinkerhoff, AllGov)