Nuclear Site Safety Official Fired After Her Repeated Warnings of Safety Problems
Friday, February 21, 2014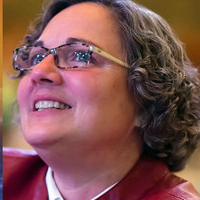 Donna Busche (photo: Hanford Challenge)
Yet another official at the nation's most challenging environmental cleanup project has been fired after raising serious safety concerns.
This time it was Donna Busche, the head of nuclear safety for cleaning up the former nuclear weapons site at Hanford, Washington, which sits atop 53 million gallons of radioactive waste stored in underground tanks.
Busche, a nuclear engineer who oversaw a staff of 140, was fired by her employer, URS Corp., one of the federal contractors hired by the U.S. Department of Energy to resolve the Hanford mess.
"The Energy Department's overall safety culture is broken and all they are doing now is sitting idly by," Busche told the Los Angeles Times.
Her termination came after she repeatedly warned company executives that the radioactive-waste solution being used was flawed and posed safety problems.
URS denied that her firing had anything to do with her safety complaints, saying she was let go for "unprofessional conduct."
Busche was the second senior project official fired at Hanford. A third official resigned, after citing safety-related concerns with the $13.4-billion construction project.
Walter Tamosaitis, who headed research at URS, was fired in 2013 after he questioned whether the company's decision to mix the waste in large tanks might result in a buildup of hydrogen gas, which can explode.
In addition, Gary Brunson, the Energy Department's engineering division director at Hanford, quit after warning of nearly three-dozen problems not being addressed by another site contractor, Bechtel.
But the worries don't stop there. The Energy Department's inspector general and other federal investigators have also warned of management and safety issues at Hanford. With 150 aging nuclear-waste tanks, many of which are leaking, it's the largest cleanup project leftover from the Cold War.
-Noel Brinkerhoff
To Learn More:
Official Who Raised Safety Concerns at Hanford Nuclear Site is Fired (by Ralph Vartabedian, Los Angeles Times)
Whistle-Blower Fired From Hanford Nuclear Site (by Nicholas K. Geranios, Associated Press)
As Hanford Radioactive Leak Continues, Clean-Up Contractor Pays Fraud Penalty (by Noel Brinkerhoff, AllGov)
Six Underground Tanks Leaking Nuclear Waste in Washington State (by Noel Brinkerhoff and Danny Biederman, AllGov)