Connecticut Wage Theft Law Shifts Burden of Proof from Employees to Employers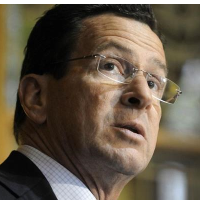 Governor Dan Malloy (photo: Jessica Hill, AP)
Lawmakers in Connecticut are requiring employers caught shortchanging workers out of wages to prove their actions were unintended, putting the burden on businesses for the first time.
Senate Bill 914, approved by the state legislature and signed by Governor Dan Malloy, gives employees the ability to collect double the amount owed to them by their employers. The new law is expected to deter companies from cheating workers out of regular and overtime wages.
"This is going to mean the transfer of millions of dollars each year from cheating employers to low-wage workers," James Bhandary-Alexander, a lawyer for New Haven Legal Assistance who represents victims of wage theft, told In These Times.
Before the passage of SB 914, state law placed the burden of proof on employees, who had to show "bad faith, arbitrariness or unreasonableness" on the employer's part in addition to wage theft.
No state in the U.S. earned a grade above "C" (which went to only New York and Massachusetts) for the strength of its wage theft prevention laws, according to a 2012 study (pdf). Eighteen states earned fail, or zero, grades. Other national studies have found that, in low-wage industries, more than 60% of workers are victims of wage violations every week, and that $50 billion in earnings per year is stolen from U.S. workers. Bhandary-Alexander called wage theft "the biggest crime wave in the country."
Labor advocates hailed the new law, though some said it did not go far enough in punishing employers.
Megan Fountain, an organizer with Unidad Latina en Acción, a grassroots workers' and immigrants' rights organization that backed SB 914, told In These Times that 10 other states require employers to pay triple damages. Those states are Arizona, Idaho, Maine, Maryland, Massachusetts, Michigan, Nebraska North Dakota, Vermont and West Virginia.
-Noel Brinkerhoff
To Learn More:
Connecticut Just Passed a Law Requiring Bosses Who Steal Workers' Wages to Pay Them Back Double (by Ava Tomasula Y Garcia, In These Times)
National, State Efforts Merge To Raise Wages (by Tatiana Cirisano, CTPost.com)
The Connecticut Wage Theft Crisis (Unidad Latina en Accion) (pdf)
Raised S.B. No. 914 (Connecticut General Assembly)
Feds Find "Alarming" Minimum-Wage Violations in California and New York (by ken Broder, AllGov California)
Lawsuits Accuse Major Employers of Squeezing Extra Dollars out of Low-Wage Workers (by Noel Brinkerhoff and Steve Straehley, AllGov)